Here at ExWeb, when we're not outdoors, we get our adventure fix by exploring social media and the wider interweb. Sometimes we're a little too plugged in, and browsing interesting stories turns from minutes into hours. To nourish your own adventure fix, here are some of the best links we've discovered this week…
Nine Lives: New Zealand climber Robert Anderson keeps you hanging on every word in this compelling tale of a failed attempt on the North Face of Everest.
Inner Ranges: Alpinist magazine sits down for a fireside chat with noted outdoor writer Geoff Powter on his own adventures, as well as a lifetime of chronicling mountaineering and its participants.
Everest Ego: Another one from Anderson, but well worth a look. In this piece, he discusses the two reasons people climb Everest: "to climb it, and to say they have climbed it."
Bushwalker Found: A man after Joe Simpson's crown, an Australian bushwalker "carried" his broken leg for two days, crawling out of the bush to safety in Queensland.
Sea to Summit: Continuing the Everest theme, this Adventure Journal piece takes a look back at the late Goran Kropp, the man who cycled from Sweden to summit Everest in 1996. But there's much more to Kropp's remarkable life than just Everest.
Icefall: Some brief drone footage of the Khumbu Icefall from Bartek Bargiel as his brother Andrzej prepares to make the first no-oxygen ski descent of Everest.
About the Author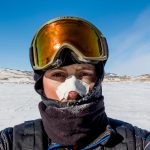 Ash Routen
Ash is an outdoor and adventure writer from the UK. He juggles a day job as a public health scientist with a second career in outdoor writing.

His words have featured in national newspapers, international magazines, and on various websites. Major bylines include Financial Times, Daily Telegraph, Porsche, Outside Magazine, Rock and Ice, and Red Bull.

He holds two degrees in Exercise and Health Sciences, and a PhD in Public Health.

His areas of expertise are polar expeditions, mountaineering, hiking, and adventure travel. In his spare time Ash enjoys going on small independent sledding expeditions, outdoor photography, and reading adventure literature.

Read more at www.ashrouten.com or follow Ash via @ashrouten on Twitter and Instagram.