After 24 days, Mike Horn and Borge Ousland have jumped ship and begun sledding toward the North Pole. The veteran polar duo set off in Horn's boat, Pangaea, from Nome Alaska on September 2, but were slowed down by repair stops along the coast.
After crossing the Bering Strait, the Pangaea headed due north. By September 6, they reached the first ice and continued onward through the Chukchi and the East Siberian Sea before reaching the Arctic Ocean and their drop off point of 85 degrees north.
After hitting ice deemed solid enough for sled travel, Horn and Ousland started skiing on September 24, with Horn remarkably noting: "Pangaea is now the sailboat that has ventured the closest to the North Pole without the support of an icebreaker."
The hard work now beings for Ousland and Horn. They have around 550km to the Pole, and a further 800km to reach their pick-up on the far side of the Arctic Ocean. In the meantime, the Pangaea's crew of 10 will make a U-turn and sail along the Russian coast and North East Passage to wait for the pair just north of Svalbard.
About the Author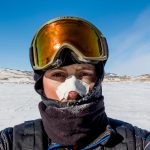 Ash Routen
Ash is an outdoor and adventure writer from the UK. He juggles a day job as a public health scientist with a second career in outdoor writing.

His words have featured in national newspapers, international magazines, and on various websites. Major bylines include Financial Times, Daily Telegraph, Porsche, Outside Magazine, Rock and Ice, and Red Bull.

He holds two degrees in Exercise and Health Sciences, and a PhD in Public Health.

His areas of expertise are polar expeditions, mountaineering, hiking, and adventure travel. In his spare time Ash enjoys going on small independent sledding expeditions, outdoor photography, and reading adventure literature.

Read more at www.ashrouten.com or follow Ash via @ashrouten on Twitter and Instagram.