Deep snow continues to slow progress on Dhaulagiri. Some climbers, such as Carlos Soria, retreated back to Base Camp yesterday to wait for better conditions. But Sergi Mingote, Juan Pablo Mohr and Moeses Fiamoncini rested yesterday after postholing up 2,000 vertical metres in deep snow. Later, they resumed their trailbreaking efforts for 11 hours until they reached Camp 3 at 7,254m.
According to Agustin Abanades, only 14 out of the 64 who had reached Camp 2 continued to Camp 4. Abanades himself tried to move up but eventually returned to Camp 2.
According to Carlos Soria, the mountain is overloaded with snow, and high winds are forecast at the summit. Nevertheless, Mingote, Mohr and Fiamoncini, along with Atanas Skatov, are among those currently pushing for the summit. At 10pm Eastern Daylight Time on Wednesday evening, Mingote's RaceTracker places him just over 7,700m.
About the Author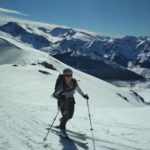 Angela Benavides
Senior journalist, published author and communication consultant. Specialized on high-altitude mountaineering, with an interest for everything around the mountains: from economics to geopolitics. After five years exploring distant professional ranges, I returned to ExWeb BC in 2018. Feeling right at home since then!