Here at ExWeb, when we're not outdoors, we get our adventure fix by exploring social media and the wider interweb. Sometimes we're a little too plugged in, and browsing interesting stories turns from minutes into hours. To nourish your own adventure fix, here are some of the best links we've discovered this week…
Colostomy Climber: Legendary greater ranges stalwart Mick Fowler is back in the Himalaya, this time trying an unclimbed 6,000m peak while using a colostomy bag — a recent legacy from surviving cancer.
An Outward Journey Inward: Between 2011 and 2015, Sarah Outen biked, kayaked and rowed over 30,000km. This is the trailer for Home, the story of Outen's journey both around the world and in learning to accept herself.
Rainier Epic: Not quite Touching the Void, but a catchy story of climbers who spent a week stranded in bad weather on Mount Rainier.
From Prison to Peak: Well, not as an inmate, but still an interesting path. British climber Nick Bullock holds court on everything from his former life as a prison guard to his future in climbing and as an author.
Afghan Pioneer: Mountaineering is not something you associate with Afghanistan, least of all with an Afghan woman. This piece explores the life of Hanifa Yousouf, the first Afghan woman to climb her country's highest peak (Noshaq, 7,492m).
Walking the Americas: Australian Lucy Barnard is just under a third of the way into a 30,000km walk from the southernmost point of South America to the northern tip of Alaska.
About the Author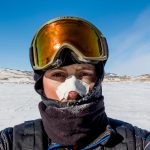 Ash Routen
Ash is an outdoor and adventure writer from the UK. He juggles a day job as a public health scientist with a second career in outdoor writing.

His words have featured in national newspapers, international magazines, and on various websites. Major bylines include Financial Times, Daily Telegraph, Porsche, Outside Magazine, Rock and Ice, and Red Bull.

He holds two degrees in Exercise and Health Sciences, and a PhD in Public Health.

His areas of expertise are polar expeditions, mountaineering, hiking, and adventure travel. In his spare time Ash enjoys going on small independent sledding expeditions, outdoor photography, and reading adventure literature.

Read more at www.ashrouten.com or follow Ash via @ashrouten on Twitter and Instagram.