Here at ExWeb, when we're not outdoors, we get our adventure fix by exploring social media and the wider interweb. Sometimes we're a little too plugged in, and browsing interesting stories turns from minutes into hours. To nourish your own adventure fix, here are some of the best links we've discovered this week…
A Pioneer Speaks: Sharon Wood was not only the first North American woman to summit Everest, but she did so via the West Ridge and Hornbein Couloir. This article profiles her in light of her new book.
Google Doodle: While many of our climbing readers will know of Polish mountaineer Wanda Rutkiewicz, here's a reminder ICYMI that she was featured around the globe on the famous Google Doodle this week.
Polar Photographer: Adventure filmmaker Matt Pycroft has started an excellent adventure podcast called Terra Incognita. Here he sits down for a chat with polar photographer Martin Hartley.
Amazing Kayaker: In 1932, Oskar Spek set out from the Danube River in Germany in a vintage Klepper folding kayak. Seven years and more than 48,000km later, he had paddled all the way to northern Australia. Here, he was congratulated, then arrested as a German national and interned for the remainder of the war.
Tale from Beyond: A few years before his death, Jess Roskelley recalled a committing climb of spectacular Mount Huntington in Alaska.
Last Man Standing: Kancha Sherpa is the last surviving member of the Sherpa team who worked on the 1953 Everest expedition. Now in his late 80s, Kancha runs a lodge in Namche Bazaar with his wife.
About the Author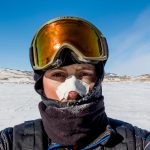 Ash Routen
Ash is an outdoor and adventure writer from the UK. He juggles a day job as a public health scientist with a second career in outdoor writing.

His words have featured in national newspapers, international magazines, and on various websites. Major bylines include Financial Times, Daily Telegraph, Porsche, Outside Magazine, Rock and Ice, and Red Bull.

He holds two degrees in Exercise and Health Sciences, and a PhD in Public Health.

His areas of expertise are polar expeditions, mountaineering, hiking, and adventure travel. In his spare time Ash enjoys going on small independent sledding expeditions, outdoor photography, and reading adventure literature.

Read more at www.ashrouten.com or follow Ash via @ashrouten on Twitter and Instagram.