Here at ExWeb, when we're not outdoors, we get our adventure fix by exploring social media and the wider interweb. Sometimes we're a little too plugged in, and browsing interesting stories turns from minutes into hours. To nourish your own adventure fix, here are some of the best links we've discovered this week…
Lost at Sea: A powerful, award-winning piece from the daughter of a man who went missing on a round-the-world sailing trip. Was it pirates or exhaustion and hallucinations that caused a retired psychologist's demise?
First Up Denali: Did you know that the first to top out on Denali was a 21-year-old Alaskan native early in the 20th century? Walter Harper, in the company of a local archdeacon, summited in 1913, a feat that was not repeated for 20 years.
Solo Circum-sail: Randall Reeves solo sailed the notorious Northwest Passage and Cape Horn twice in one year, during a circumnavigation of North and South America and Antarctica.
Return to the Totem: An extract from climber Paul Pritchard's fourth book. It covers Pritchard's return to the famous Totem Pole in Tasmania, some 18 years after suffering a traumatic brain injury on the sea stack.

Ripped: The story behind the first free ascent of the Salathe Wall on El Capitan. Hard on the muscles but even harder on the fingers: one of the climbers spent an hour "cleaning my fingers with alcohol, Super Gluing the rents in them, and then taping over the glue."
In the Footsteps of Scott: Over 105 days, Ben Saunders and Tarka L'Herpiniere skied Captain Scott's 2,900km route from the coast of Antarctica to the South Pole and back.
About the Author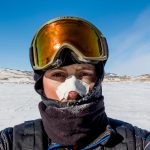 Ash Routen
Ash is an outdoor and adventure writer from the UK. He juggles a day job as a public health scientist with a second career in outdoor writing.

His words have featured in national newspapers, international magazines, and on various websites. Major bylines include Financial Times, Daily Telegraph, Porsche, Outside Magazine, Rock and Ice, and Red Bull.

He holds two degrees in Exercise and Health Sciences, and a PhD in Public Health.

His areas of expertise are polar expeditions, mountaineering, hiking, and adventure travel. In his spare time Ash enjoys going on small independent sledding expeditions, outdoor photography, and reading adventure literature.

Read more at www.ashrouten.com or follow Ash via @ashrouten on Twitter and Instagram.