On October 24, German climber Jost Kobusch made the first ascent of Amotsang (6,393m) in the Damodar Himal region of Nepal. No details were given on the route or its difficulties.
A French expedition reconnoitered Amotsang in 2003 but decided against an attempt. A few years later, Australian climber Damien Gildea spotted a potential route during his research back home, but when climbing in that region, he and partner Chris Warner "only got to see the second part of this route once, for an hour, due to terrible visibility, and that was late in the trip." Still, what he saw convinced Gildea that a small team could succeed, as he wrote later in the American Alpine Journal.
Kobusch is currently in Nepal, preparing a grander project: to solo climb Everest in winter via the rarely attempted West Ridge and Hornbein Couloir. "[It's] a real adventure, real alpinism, not just the usual traffic jam," he explained.
About the Author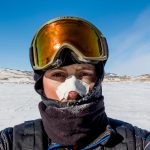 Ash Routen
Ash is an outdoor and adventure writer from the UK. He juggles a day job as a public health scientist with a second career in outdoor writing.

His words have featured in national newspapers, international magazines, and on various websites. Major bylines include Financial Times, Daily Telegraph, Porsche, Outside Magazine, Rock and Ice, and Red Bull.

He holds two degrees in Exercise and Health Sciences, and a PhD in Public Health.

His areas of expertise are polar expeditions, mountaineering, hiking, and adventure travel. In his spare time Ash enjoys going on small independent sledding expeditions, outdoor photography, and reading adventure literature.

Read more at www.ashrouten.com or follow Ash via @ashrouten on Twitter and Instagram.