After 87 days alone on the ice, Borge Ousland and Mike Horn finally reached some semblance of civilization, when they paddled over a lead in their packrafts and joined their support crew of Bengt Rotmo and Aleksander Gamme.
Shortly before that meeting, Mike Horn went for an unscheduled dunking in the icy ocean. "He stepped over a small ridge… and got totally wet," Ousland reported.
The air temperature was -25°C, but the wind made it feel much colder. "I helped him out and quickly put the tent up and started all the stoves we had," said Ousland. "Thankfully had enough spare clothes."
After drying boots and pants, the stoic pair started moving again and met their support crew shortly after. At this point, Ousland and Horn have refrained from dipping into the fresh supplies, trying to make it all the way to the ship on their remaining fumes of food and fuel.
One Norwegian source places the foursome within four kilometres of the ship, although the lead photo, above, suggests that they are even closer. The lights of each party are visible to the other. They will likely reach the Lance shortly.

"We have worked so hard, and stuck to our routines all the way, and never gave up," said Ousland.
About the Author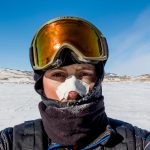 Ash Routen
Ash is an outdoor and adventure writer from the UK. He juggles a day job as a public health scientist with a second career in outdoor writing.

His words have featured in national newspapers, international magazines, and on various websites. Major bylines include Financial Times, Daily Telegraph, Porsche, Outside Magazine, Rock and Ice, and Red Bull.

He holds two degrees in Exercise and Health Sciences, and a PhD in Public Health.

His areas of expertise are polar expeditions, mountaineering, hiking, and adventure travel. In his spare time Ash enjoys going on small independent sledding expeditions, outdoor photography, and reading adventure literature.

Read more at www.ashrouten.com or follow Ash via @ashrouten on Twitter and Instagram.