Here at ExWeb, when we're not outdoors, we get our adventure fix by exploring social media and the wider interweb. Sometimes we're a little too plugged in, and browsing interesting stories turns from minutes into hours. To nourish your own adventure fix, here are some of the best links we've discovered this week…
A Role Model: Ski mountaineer Hilaree Nelson reflects on her career and the changing ambitions of younger female adventurers. "They don't want that female disclaimer any more…we can throw down just as hard as the men."
The Great Game: On a recent trip to Pakistan, Tom Livingstone and Ally Swinton put up a new route on a 6,000'er. On the descent, things went awry and Swinton was lucky to return alive. Readers beware, this contains graphic images.
Shut Up Shop: Stok Kangri, one of India's most popular trekking peaks, is closed for the next two years. Government authorities cite unmanageable over-tourism.
The Story of Ada Blackjack: In the 1920s, a native Alaskan woman survived two years as a castaway on uninhabited Wrangel Island in Siberia. She was part of an expedition led by controversial explorer Vilhjalmur Stefansson, who was attempting to claim the island for Canada.
Urubko's Definition: Before he heads off to Broad Peak, Kazakh strongman Denis Urubko discusses, once again, one of his favourite topics: the definition of "real" winter.
UNESCO Status: Alpinism, the art of mountain climbing, has been awarded UNESCO cultural heritage status — a somewhat intangible honour, in this case. Apparently, the Swiss government has also filed an application for yodeling!
About the Author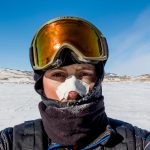 Ash Routen
Ash is an outdoor and adventure writer from the UK. He juggles a day job as a public health scientist with a second career in outdoor writing.

His words have featured in national newspapers, international magazines, and on various websites. Major bylines include Financial Times, Daily Telegraph, Porsche, Outside Magazine, Rock and Ice, and Red Bull.

He holds two degrees in Exercise and Health Sciences, and a PhD in Public Health.

His areas of expertise are polar expeditions, mountaineering, hiking, and adventure travel. In his spare time Ash enjoys going on small independent sledding expeditions, outdoor photography, and reading adventure literature.

Read more at www.ashrouten.com or follow Ash via @ashrouten on Twitter and Instagram.