Keeping his plans to himself for almost a month, former British rugby player Richard Parks has now revealed that he is in Antarctica. He left Hercules Inlet on December 17 to ski solo, unsupported and unassisted to the South Pole.
Parks had returned to take another shot at Christian Eide's 24-day speed record from Hercules Inlet to the South Pole. Last year, he stayed almost on pace for 12 days before his body broke down and he ended his attempt after 14 days.
This year, he has run Eide closer but once again has failed to better Eide's remarkable time. Parks has just over 100km remaining of the 1,130km total distance and has been skiing for 26 days.
Parks took only 25 days of rations to economize on weight but planned to stretch these to 27 days through rationing. He could still best his own 29-day British record if he is able to finish without a resupply, but he has to hurry before his calories run out.
About the Author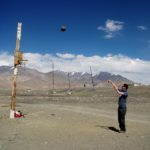 Martin Walsh
Martin Walsh is a freelance writer and wildlife photographer based in Da Lat, Vietnam.

A history graduate from the University of Nottingham, Martin's career arc is something of a smörgåsbord. A largely unsuccessful basketball coach in Zimbabwe and the Indian Himalaya, a reluctant business lobbyist in London, and an interior design project manager in Saigon.

He has been fortunate enough to see some of the world. Highlights include tracking tigers on foot in Nepal, white-water rafting the Nile, bumbling his way from London to Istanbul on a bicycle, feeding wild hyenas with his face in Ethiopia, and accidentally interviewing Hezbollah in Lebanon.

His areas of expertise include adventure travel, hiking, wildlife, and half-forgotten early 2000s indie-rock bands.