Here at ExWeb, when we're not outdoors, we get our adventure fix by exploring social media and the wider interweb. Sometimes we're a little too plugged in, and browsing interesting stories turns from minutes into hours. To nourish your own adventure fix, here's some of the best links we've discovered this week…
O'Brady Exposé: Last week, Colin O'Brady had his pants well and truly pulled down by National Geographic. Their eviscerating article about his so-called "Impossible First" and his behavior on previous guided trips was chock-full of polar heavyweights speaking out.
Alone on the Ice: In an antidote to O'Brady's antics, David Roberts takes up the story of Douglas Mawson, a true polar pioneer, and whose famous brush with doom often gets overlooked for more familiar tales of Shackleton, Scott and other Antarctic contemporaries.
Soul in the Game: An interview with Leo Houlding about his wide-ranging career, from young climbing upstart to big waller, BASE jumper and now arguably leading light of the British adventure scene.
Big Break: The film that kicked off trick cyclist Danny MacAskill's career. Even 11 years on, the maneuvers filmed by his flatmate around the streets of Edinburgh are mind-blowing. MacAskill is now a sponsored athlete and a regular at adventure film festivals worldwide.
Speed: Rock and Ice asks if the future of alpinism will belong, like Antarctic travel, to trail runners and all-round mountain athletes such as Kilian Jornet and Karl Egloff.
Trans-Canada: Adam Shoalts speaks to Canadian Geographic about his 4,000km canoe journey across northern Canada.
About the Author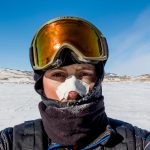 Ash Routen
Ash is an outdoor and adventure writer from the UK. He juggles a day job as a public health scientist with a second career in outdoor writing.

His words have featured in national newspapers, international magazines, and on various websites. Major bylines include Financial Times, Daily Telegraph, Porsche, Outside Magazine, Rock and Ice, and Red Bull.

He holds two degrees in Exercise and Health Sciences, and a PhD in Public Health.

His areas of expertise are polar expeditions, mountaineering, hiking, and adventure travel. In his spare time Ash enjoys going on small independent sledding expeditions, outdoor photography, and reading adventure literature.

Read more at www.ashrouten.com or follow Ash via @ashrouten on Twitter and Instagram.