Here at ExWeb, when we're not outdoors, we get our adventure fix by exploring social media and the wider interweb. Sometimes we're a little too plugged in, and browsing interesting stories turns from minutes into hours. To nourish your own adventure fix, here are some of the best links we've discovered this week…
Mysteries of Myohang: Hidden inside the Little Rocket Man's regime, there appears to be a wealth of adventurous opportunities in North Korea, as a crew of mountain bikers recently discovered.
A Lonely Journey: The BBC looks back 23 years to when Borge Ousland crossed Antarctica alone. Sixty-four days and 2,845km: Sounds impossible, right?
Lost at Sea: Last year, three men spent over a week marooned in the middle of the Pacific, after their journey from Japan to Hawaii went awry.
What the Fou: Tom Livingstone recounts a free ascent of the technical American route on the south face of the Aiguille du Fou in the Mont Blanc massif.
Father and Friendlies: Adventure writer Aaron Teasdale and his father explore the landscape that broadened his father's horizons when fighting in Vietnam in the late 1960s.
Riders of the Storm: Twenty-five years after its first ascent, Ines Papart and Mayan Smith-Gobat make the fifth ascent of Riders of the Storm on Torres Central in Chile.
About the Author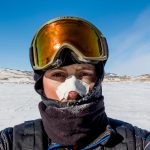 Ash Routen
Ash is an outdoor and adventure writer from the UK. He juggles a day job as a public health scientist with a second career in outdoor writing.

His words have featured in national newspapers, international magazines, and on various websites. Major bylines include Financial Times, Daily Telegraph, Porsche, Outside Magazine, Rock and Ice, and Red Bull.

He holds two degrees in Exercise and Health Sciences, and a PhD in Public Health.

His areas of expertise are polar expeditions, mountaineering, hiking, and adventure travel. In his spare time Ash enjoys going on small independent sledding expeditions, outdoor photography, and reading adventure literature.

Read more at www.ashrouten.com or follow Ash via @ashrouten on Twitter and Instagram.