Here at ExWeb, when we're not outdoors, we get our adventure fix by exploring social media and the wider interweb. Sometimes we're a little too plugged in, and browsing interesting stories turns from minutes into hours. To nourish your own adventure fix, here are some of the best links we've discovered this week…
Survivors' Guilt: The New Yorker is making a habit of publishing excellent long reads on adventure. This one explores the complex issue of how climbers deal with survivors' guilt.
In Search of Tamazight: An ultrarunner tackles a nearly 900km run through the Moroccan High Atlas, using old Berber trails. It's part of a longer-term project to run through a mountain range on every continent.
Cod Science of Everest: Mark Horrell digs behind the spurious data analysis that suggests that Sherpas have the most dangerous profession in the world.
Horn on Arctic Ocean Epic: Mike Horn talks about his and Borge Ousland's daunting expedition across the Arctic Ocean. He hints this might be the last time he steps on the thinning ice of arctic waters.
On the Dole: You would think that being of one of the world's best paddlers would lead to a full-time adventure career. Not so for Nouria Newman. She talks to Outside about why it's so hard turning her passion into a career.
Historical Badass: Were she alive today, Gertrude Benham would be regaling worldwide audiences with tales of unclimbed mountains and continental crossings. Great to see light shed on this lesser-known Victorian go-getter.
About the Author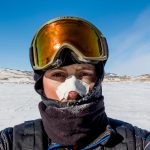 Ash Routen
Ash is an outdoor and adventure writer from the UK. He juggles a day job as a public health scientist with a second career in outdoor writing.

His words have featured in national newspapers, international magazines, and on various websites. Major bylines include Financial Times, Daily Telegraph, Porsche, Outside Magazine, Rock and Ice, and Red Bull.

He holds two degrees in Exercise and Health Sciences, and a PhD in Public Health.

His areas of expertise are polar expeditions, mountaineering, hiking, and adventure travel. In his spare time Ash enjoys going on small independent sledding expeditions, outdoor photography, and reading adventure literature.

Read more at www.ashrouten.com or follow Ash via @ashrouten on Twitter and Instagram.