Here at ExWeb, when we're not outdoors, we get our adventure fix by exploring social media and the wider interweb. Sometimes we're a little too plugged in, and browsing interesting stories turns from minutes into hours. To nourish your own adventure fix, here are some of the best links we've discovered this week…
Measure of a Mountain: Alpinist editor Katie Ives examines the role of summits in climbing history, and highlights the elephant in the room: To date, no climber may have stood on the true summits of all 14 8,000'ers.
Stuck in the Mud: Another Outside survival drama, this one from last year. A hiker in Utah becomes trapped in quicksand, as the weather closes in around him.
Jigsaw of Broken Slate: Barren, bleak, hard to find and harder to get a permit for — the peaks of Azerbaijan are a mystery to most westerners. This short feature gives a rare glimpse into their splendour.
Race to the Top: The New York Times charts Adam Ondra's struggle to get his head around speed climbing — that ridiculous sideshow that has somehow made its way into the Olympics.
Hard Rock: A tribute to the late Ken Wilson, the man behind the great magazine Mountain, as well as the classic British climbing guidebook Hard Rock. He was one of climbing's most prolific publishers.
Hold Fast: The Adventure Podcast sits down with Conrad Anker to discuss his remarkable career in the mountains.
About the Author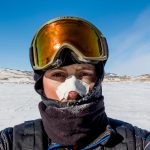 Ash Routen
Ash is an outdoor and adventure writer from the UK. He juggles a day job as a public health scientist with a second career in outdoor writing.

His words have featured in national newspapers, international magazines, and on various websites. Major bylines include Financial Times, Daily Telegraph, Porsche, Outside Magazine, Rock and Ice, and Red Bull.

He holds two degrees in Exercise and Health Sciences, and a PhD in Public Health.

His areas of expertise are polar expeditions, mountaineering, hiking, and adventure travel. In his spare time Ash enjoys going on small independent sledding expeditions, outdoor photography, and reading adventure literature.

Read more at www.ashrouten.com or follow Ash via @ashrouten on Twitter and Instagram.