Here at ExWeb, when we're not outdoors, we get our adventure fix by exploring social media and the wider interweb. Sometimes we're a little too plugged in, and browsing interesting stories turns from minutes into hours. To nourish your own adventure fix, here are some of the best links we've discovered this week…
Starlight and Storm: It's just over a year since the talented Tom Ballard met his fate on Nanga Parbat. This excellent digital feature covers the life and death of his mother, Alison Hargreaves, and his own quest to solo climb the six north faces of the Alps.
Lurking Beneath: Although an open secret in the polar world, it's not widely known that the Barneo ice camp dumps fuel bottles and bulldozers in the Arctic Ocean every year.
Perfect Partners:  Primarily known for his big-wall prowess, Alex Honnold has also undertaken some impressive alpine climbs with the indomitable Patagonian master Colin Haley.
Between Snow and Stars: If you're looking for a break from Covid news, this intense film on the lives of arctic mushers and Everest hopefuls will occupy you for at least an hour.
Rude Awakening: A humorous short interview with Borge Ousland — as he had to be prodded to wake up — at the end of his and Mike Horn's 2006 winter North Pole trip.
Lost in the Woods: In 1939, while hiking the end section of the newly opened Appalachian Trail, 12-year-old Donn Fendler became lost in the Maine woods for nearly two weeks.
About the Author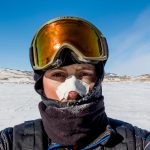 Ash Routen
Ash is an outdoor and adventure writer from the UK. He juggles a day job as a public health scientist with a second career in outdoor writing.

His words have featured in national newspapers, international magazines, and on various websites. Major bylines include Financial Times, Daily Telegraph, Porsche, Outside Magazine, Rock and Ice, and Red Bull.

He holds two degrees in Exercise and Health Sciences, and a PhD in Public Health.

His areas of expertise are polar expeditions, mountaineering, hiking, and adventure travel. In his spare time Ash enjoys going on small independent sledding expeditions, outdoor photography, and reading adventure literature.

Read more at www.ashrouten.com or follow Ash via @ashrouten on Twitter and Instagram.