Here at ExWeb, when we're not outdoors, we get our adventure fix by exploring social media and the wider interweb. Sometimes we're a little too plugged in, and browsing interesting stories turns from minutes into hours. To nourish your own adventure fix, here's some of the best links we've discovered this week…
The Best Dam Climb In America: As it says on the tin, the best climb up a dam in America. Bolt drilling and disco legs abound in this regaling of one such dam foray.
Crime At The Top Of The World: A botched bank robbery in the Norwegian archipelago of Svalbard. Even way up north, you can't escape man's less attractive deeds.
The Smell Of Change: Climber Nick Bullock writes about the journey home, from an aborted climbing trip, during the tightening grip of COVID lockdown.
Five Minutes of Bliss: Granted it's not adventure, but a dreamy five minutes of piano among the mountainous coastline of Iceland is a welcome tonic right now.
Industry Support: Outdoor writer and editor Alex Roddie issues a clarion call on how we can all help writers and publishers of our favorite outdoor media during these uncertain times.
Citizen Of Mont Blanc: French climbing guide and journalist Claude Gardien tackles the late Walter Bonatti's tetchy relationship with Mont Blanc.
Food, Water, Snow: A few years ago Erik Boomer and Sarah McNair-Landry completed a tough 65-day expedition across Baffin Island, covering over 1,000km by kayak, ski and foot.
About the Author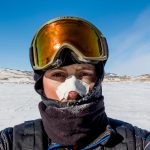 Ash Routen
Ash is an outdoor and adventure writer from the UK. He juggles a day job as a public health scientist with a second career in outdoor writing.

His words have featured in national newspapers, international magazines, and on various websites. Major bylines include Financial Times, Daily Telegraph, Porsche, Outside Magazine, Rock and Ice, and Red Bull.

He holds two degrees in Exercise and Health Sciences, and a PhD in Public Health.

His areas of expertise are polar expeditions, mountaineering, hiking, and adventure travel. In his spare time Ash enjoys going on small independent sledding expeditions, outdoor photography, and reading adventure literature.

Read more at www.ashrouten.com or follow Ash via @ashrouten on Twitter and Instagram.