Here at ExWeb, when we're not outdoors, we get our adventure fix by exploring social media and the wider interweb. Sometimes we're a little too plugged in, and browsing interesting stories turns from minutes into hours. To nourish your own adventure fix, here's some of the best links we've discovered this week…
An Interview with David Roberts: The Dean of Adventure Writing opens up on his Alaskan climbing career, the brotherhood of the rope and the state of modern climbing.
Norman Baker: Behind Thor Heyerdahl's famous ocean voyages was a mountain-climbing, gold-mining navigator.
The Surprising Popularity of Buildering: Anyone who has been a part of a University climbing club knows about the time-honoured discipline of Buildering.
Lost Highway: The withering of a large patch of ice in Norway is unearthing hidden artifacts from the Viking era, such as 1,000-year-old horseshoes, sleds and tools.
Runnel Vision: Four climbers head to Brazil to free climb a new route on a remote big wall, but on landing in Rio, they encounter civil unrest and strikes.
After Lockdown Ends: A UK outdoor writer and mountain walker asks what kind of normal we will return to when this all ends. Apparently only nine percent of Britons want life to return to normal.
Huberbaum: A vlog with Austrian climbing supremo Alexander Huber.
About the Author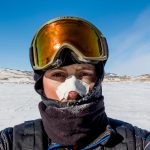 Ash Routen
Ash is an outdoor and adventure writer from the UK. He juggles a day job as a public health scientist with a second career in outdoor writing.

His words have featured in national newspapers, international magazines, and on various websites. Major bylines include Financial Times, Daily Telegraph, Porsche, Outside Magazine, Rock and Ice, and Red Bull.

He holds two degrees in Exercise and Health Sciences, and a PhD in Public Health.

His areas of expertise are polar expeditions, mountaineering, hiking, and adventure travel. In his spare time Ash enjoys going on small independent sledding expeditions, outdoor photography, and reading adventure literature.

Read more at www.ashrouten.com or follow Ash via @ashrouten on Twitter and Instagram.