Here at ExWeb, when we're not outdoors, we get our adventure fix by exploring social media and the wider interweb. Sometimes we're a little too plugged in, and browsing interesting stories turns from minutes into hours. To nourish your own adventure fix, here are some of the best links we've discovered this week…
Fall Line: The late-1970s, Oscar-nominated ski mountaineering film from Lowe Alpine is now freely available online.
Lord of the Abyss: A profile of the man who astounded Europe with his free solo exploits and pure ethics, 100 years before Honnold hit the scene.
Traffic on Cerro: Before COVID-19 swept across the world, there were new routes and even traffic jams on some of Patagonia's most famous spires.
Marathon Man: Outside get to grips with the middle-aged American aiming to run a marathon a day for just under six years. What fuels such an obsession?
Recovery: An amateur mountaineer recounts his ongoing recovery after a life-changing accident in the Alps.
Historical Badass: In the late 1930s, Buzz Holmstrom built a boat in his mother's basement and used it to become the first person to solo the Grand Canyon.
The Hills Will Always Be There: Mountaineering royalty Chris Bonington has a short message for us during these uncertain times.
About the Author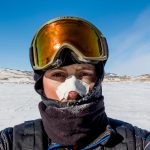 Ash Routen
Ash is an outdoor and adventure writer from the UK. He juggles a day job as a public health scientist with a second career in outdoor writing.

His words have featured in national newspapers, international magazines, and on various websites. Major bylines include Financial Times, Daily Telegraph, Porsche, Outside Magazine, Rock and Ice, and Red Bull.

He holds two degrees in Exercise and Health Sciences, and a PhD in Public Health.

His areas of expertise are polar expeditions, mountaineering, hiking, and adventure travel. In his spare time Ash enjoys going on small independent sledding expeditions, outdoor photography, and reading adventure literature.

Read more at www.ashrouten.com or follow Ash via @ashrouten on Twitter and Instagram.