Here at ExWeb, when we're not outdoors, we get our adventure fix by exploring social media and the wider interweb. Sometimes we're a little too plugged in, and browsing interesting stories turns from minutes into hours. To nourish your own adventure fix, here are some of the best links we've discovered this week…
The Prophet: Back in 2001, Leo Houlding was 21, fearless and seemingly indestructible. He set his sights on free climbing a new route on El Cap. For all his precocious talent, Houlding didn't count on taking the best part of a decade to make his dream happen.
First Class, Business Class, Working Class: With magazines owing him thousands of dollars, and COVID-19 rendering him jobless, travel writer Jamie Lafferty looks back on a decade of travel to all corners, from Petra to Antarctica, and asks if it was worth it.
Labyrinths of Granite and Ice: Graham Zimmerman on the brilliant and sought-after first ascent of Link Sar last year with Steve Swenson, Mark Richey and Chris Wright.
Overlooked No More: The New York Times now runs a feature in their obituary section to highlight people they didn't cover at the time of their death. This time, it's mountaineer Alison Hargreaves.
A Life Outdoors: Sidetracked magazine caught up with the always energetic outdoor polymath Kilian Jornet, on life during COVID-19 and his future ambitions.
Out of Eden: Paul Salopek is on a 34,000km walk around the world. From self-isolation in Myanmar, he muses on the pandemics of yesteryear and how global order may tilt due to COVID-19.
About the Author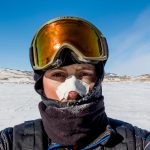 Ash Routen
Ash is an outdoor and adventure writer from the UK. He juggles a day job as a public health scientist with a second career in outdoor writing.

His words have featured in national newspapers, international magazines, and on various websites. Major bylines include Financial Times, Daily Telegraph, Porsche, Outside Magazine, Rock and Ice, and Red Bull.

He holds two degrees in Exercise and Health Sciences, and a PhD in Public Health.

His areas of expertise are polar expeditions, mountaineering, hiking, and adventure travel. In his spare time Ash enjoys going on small independent sledding expeditions, outdoor photography, and reading adventure literature.

Read more at www.ashrouten.com or follow Ash via @ashrouten on Twitter and Instagram.