Here at ExWeb, when we're not outdoors, we get our adventure fix by exploring social media and the wider interweb. Sometimes we're a little too plugged in, and browsing interesting stories turns from minutes into hours. To nourish your own adventure fix, here are some of the best links we've discovered this week…
In Conversation: One from the Banff archives. Well-known mountain writer Ed Douglas interviews Peter Habeler, who partnered with Reinhold Messner on the first oxygen-less ascent of Everest. A really superb interview.
Alone At Sea: Despite COVID-19, paraplegic ocean rower Angela Madsen is currently a third of the way through a 5,600km row from Los Angeles to Hawaii.
Patagonian Solo: In case you missed it a few years ago, American climber Jim Reynolds pulled off a stunning free solo of Cerro Fitzroy in Patagonia. Not only that, but he downclimbed the whole thing instead of rappelling.
The Last Great Mountain: Mountaineering blogger Mark Horrell reviews Mick Confrey's The Last Great Mountain, which is a comprehensive history of climbing on Kangchenjunga, including its first ascent in 1955.
The Human Fly: The British Mountaineering council has just published a feature-length interview with recently passed mountaineer Joe Brown. Full of old school stoicism and wit.
Beyond The Margins: Thirty-five years after the infamous rope-cutting incident in Peru, Simon Yates is still climbing and exploring the remote corners of our planet.
About the Author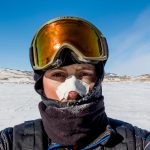 Ash Routen
Ash is an outdoor and adventure writer from the UK. He juggles a day job as a public health scientist with a second career in outdoor writing.

His words have featured in national newspapers, international magazines, and on various websites. Major bylines include Financial Times, Daily Telegraph, Porsche, Outside Magazine, Rock and Ice, and Red Bull.

He holds two degrees in Exercise and Health Sciences, and a PhD in Public Health.

His areas of expertise are polar expeditions, mountaineering, hiking, and adventure travel. In his spare time Ash enjoys going on small independent sledding expeditions, outdoor photography, and reading adventure literature.

Read more at www.ashrouten.com or follow Ash via @ashrouten on Twitter and Instagram.