Here at ExWeb, when we're not outdoors, we get our adventure fix by exploring social media and the wider interweb. Sometimes we're a little too plugged in, and browsing interesting stories turns from minutes into hours. To nourish your own adventure fix, here are some of the best links we've discovered this week…
The Adventure Gap: Alpinist talks to writer James Edward Mills about the "adventure gap" and the relationship between mountaineering and the civil rights movement. (If you don't have Spotify, follow this link and scroll 3/4 down.) You can also read this interview with Mills here.
The Moffat Expedition: Over sixty years ago, a pioneering 1,500km canoe expedition to the featureless barrenlands of central Nunavut, Canada, went desperately wrong.
The Mad Affair: In the mid-1960s, two climbers became stranded on the jagged pillar of the Petit Dru in the French Alps. What followed was one of the largest mountain rescues in history.
Facing Fear: In this classic article from Orion magazine, science writer J.B. MacKinnon explores how climbing helped cure him of his childhood panic attacks.
One Step Beyond: A look back at the final days of the exceptionally talented Jean-Christophe Lafaille, who sadly perished on Makalu in 2006.
Mountain Photography: Former international mountain landscape photographer of the year, Alex Nail, leads us through a day capturing the Lofoten mountains in Norway.
About the Author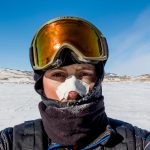 Ash Routen
Ash is an outdoor and adventure writer from the UK. He juggles a day job as a public health scientist with a second career in outdoor writing.

His words have featured in national newspapers, international magazines, and on various websites. Major bylines include Financial Times, Daily Telegraph, Porsche, Outside Magazine, Rock and Ice, and Red Bull.

He holds two degrees in Exercise and Health Sciences, and a PhD in Public Health.

His areas of expertise are polar expeditions, mountaineering, hiking, and adventure travel. In his spare time Ash enjoys going on small independent sledding expeditions, outdoor photography, and reading adventure literature.

Read more at www.ashrouten.com or follow Ash via @ashrouten on Twitter and Instagram.