Here at ExWeb, when we're not outdoors, we get our adventure fix by exploring social media and the wider interweb. Sometimes we're a little too plugged in, and browsing interesting stories turns from minutes into hours. To nourish your own adventure fix, here are some of the best links we've discovered this week…

Everest Comeback: French mountaineer Marc "The Sprinter" Batard has announced his comeback to high-altitude mountaineering, aged 68. Batard climbed Everest in 22 hours without oxygen back in 1988, has scaled four 8,000'ers without O's and bagged Dhaulagiri in winter.

Banff Misery: The Banff Centre for Arts and Creativity is the organization behind the famous yearly mountain film and book festival, and has supported many adventure photographers and writers. Sadly on Thursday, due to financial woes from COVID-19, the Centre had to permanently lay off 284 of its staff, including all but three of its 20-something festival personnel.
Hilly's Record: It might sound unimpressive if you live in the Alps or the Rockies, but Scottish skier Helen "Hilly" Rennie has managed to ski on Scottish snow once a month for over a decade. Her run was brought to an end by COVID-19.
A Winter's Tale: In this short Alpinist essay, Paula Wright describes the first winter ascent of Mont Blanc in 1876, by Mary Isabella Straton, Jean Charlet, Sylvain Couttet and Michel Balmat.
Sudden Solitude: Oliver Smith was looking to find isolation on one of the world's busiest mountains when COVID-19 shut it down. But he soon realized that a mountain so intertwined with man is never devoid of a human touch.
Amazon Pioneer: Adventure Journal asks what the hell happened to Colonel Percy Harrison Fawcett, the man who mapped the Amazon in the early 20th century. His disappearance has fueled debate for the past 90 years.
About the Author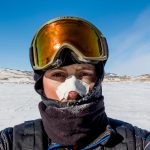 Ash Routen
Ash is an outdoor and adventure writer from the UK. He juggles a day job as a public health scientist with a second career in outdoor writing.

His words have featured in national newspapers, international magazines, and on various websites. Major bylines include Financial Times, Daily Telegraph, Porsche, Outside Magazine, Rock and Ice, and Red Bull.

He holds two degrees in Exercise and Health Sciences, and a PhD in Public Health.

His areas of expertise are polar expeditions, mountaineering, hiking, and adventure travel. In his spare time Ash enjoys going on small independent sledding expeditions, outdoor photography, and reading adventure literature.

Read more at www.ashrouten.com or follow Ash via @ashrouten on Twitter and Instagram.