Here at ExWeb, when we're not outdoors, we get our adventure fix by exploring social media and the wider interweb. Sometimes we're a little too plugged in, and browsing interesting stories turns from minutes into hours. To nourish your own adventure fix, here are some of the best links we've discovered this week…
Peter Croft: Legendary Canadian climber and mountaineer talks about his climbing roots in Squamish and how he made the leap to the towering cliffs of the Yosemite Valley.
Rebuilt: Craig DeMartino writes about how he survived a 300m ground fall in 2002 and how he mentors others who have suffered life-changing injuries.
In Pursuit: Yukon native Peter Maher chases the migration of the caribou on his home turf, hoping to capture the perfect image of this ancient event.
Whispers: Kayaker Will Copestake reflects on the importance of fear during his solo circumnavigation of Scotland by kayak.
Feeding the Book Rat: Mountain bibliophile David Hume shares a few of his favorite climbing books.
My Wife Made Me Walk to the South Pole: Ex-Legionnaire and businessman Simon Murray became the oldest man to complete the Hercules Inlet route, aged 63, back in 2004.
About the Author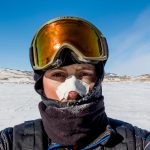 Ash Routen
Ash is an outdoor and adventure writer from the UK. He juggles a day job as a public health scientist with a second career in outdoor writing.

His words have featured in national newspapers, international magazines, and on various websites. Major bylines include Financial Times, Daily Telegraph, Porsche, Outside Magazine, Rock and Ice, and Red Bull.

He holds two degrees in Exercise and Health Sciences, and a PhD in Public Health.

His areas of expertise are polar expeditions, mountaineering, hiking, and adventure travel. In his spare time Ash enjoys going on small independent sledding expeditions, outdoor photography, and reading adventure literature.

Read more at www.ashrouten.com or follow Ash via @ashrouten on Twitter and Instagram.