Here at ExWeb, when we're not outdoors, we get our adventure fix by exploring social media and the wider interweb. Sometimes we're a little too plugged in, and browsing interesting stories turns from minutes into hours. To nourish your own adventure fix, here are some of the best links we've discovered this week…
Green Boots: The story of Tsewang Paljor, aka Green Boots, the most famous of Everest's many victims, whose body has laid exposed on the Northeast Ridge of Everest for nearly 25 years.
Did Irvine and Mallory Climb Everest? A 12-year old British schoolboy has made a neat film exploring the mystery of whether Sandy Irvine and George Mallory summited Everest. Featuring Leo Houlding, Dave Hahn and other well-known mountain folk.
Rock and Ice Fiasco: Duane Raleigh, the publisher and editor of American climbing magazine Rock and Ice has resigned after pushback from a recent op-ed he commissioned called, "It's Time to Change Offensive Route Names".
Sneaky Thru-Hikers: Amid COVID-19, two renegade hikers completed the Appalachian Trail in June, after months of trespassing and hiding from rangers.
Reasonable Doubt: A look back to a classic 1994 Climbing Magazine article where Greg Child explores Slovenian Tomo Cesen's controversial claim to have soloed Lhotse's South Face in 1990.
Everest is Over: An Atlantic journalist argues that with its crowds, trash and selfies on the summit, Everest has lost its cultural power. Isn't she a few decades late to the party on that one?
About the Author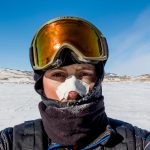 Ash Routen
Ash is an outdoor and adventure writer from the UK. He juggles a day job as a public health scientist with a second career in outdoor writing.

His words have featured in national newspapers, international magazines, and on various websites. Major bylines include Financial Times, Daily Telegraph, Porsche, Outside Magazine, Rock and Ice, and Red Bull.

He holds two degrees in Exercise and Health Sciences, and a PhD in Public Health.

His areas of expertise are polar expeditions, mountaineering, hiking, and adventure travel. In his spare time Ash enjoys going on small independent sledding expeditions, outdoor photography, and reading adventure literature.

Read more at www.ashrouten.com or follow Ash via @ashrouten on Twitter and Instagram.