Here at ExWeb, when we're not outdoors, we get our adventure fix by exploring social media and the wider interweb. Sometimes we're a little too plugged in, and browsing interesting stories turns from minutes into hours. To nourish your own adventure fix, here are some of the best links we've discovered this week…
The Father Of The Modern Sherpa: New Zealand mountaineer and polar traveler Bob McKerrow profies legendary Sherpa and sirdar, Ang Tharkay.
Inside Base Camp: A journalist describes his month at the foot of Everest back in 2006, featuring the well-stocked bars, the "butter people" and a friendly Playboy bunny from Poland.
What I've Learned: Ed Viesturs is the only American to climb all 14 of the 8,000m peaks, and the sixth person overall to do them without supplemental oxygen. He lists ten things he learned along the way.
The Crystal Snake: Twin brothers Damian and Willie Benegas, both world-class alpine guides, put up a spectacular ice line on the North Face of Nuptse in 2003. Rock and Ice magazine documents their story of "The Crystal Snake."
Journet's Joules: Most of us would expect mountain polymath Kilian Jornet to dial in every last nutrient in a finely tuned diet. Instead, he follows a simple set of guiding principles.
COVID Free: Antarctica is the only COVID-free continent, but will it remain that way once flights resume this month?
About the Author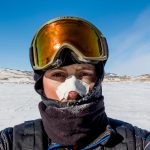 Ash Routen
Ash is an outdoor and adventure writer from the UK. He juggles a day job as a public health scientist with a second career in outdoor writing.

His words have featured in national newspapers, international magazines, and on various websites. Major bylines include Financial Times, Daily Telegraph, Porsche, Outside Magazine, Rock and Ice, and Red Bull.

He holds two degrees in Exercise and Health Sciences, and a PhD in Public Health.

His areas of expertise are polar expeditions, mountaineering, hiking, and adventure travel. In his spare time Ash enjoys going on small independent sledding expeditions, outdoor photography, and reading adventure literature.

Read more at www.ashrouten.com or follow Ash via @ashrouten on Twitter and Instagram.