Here at ExWeb, when we're not outdoors, we get our adventure fix by exploring social media and the wider interweb. Sometimes we're a little too plugged in, and browsing interesting stories turns from minutes into hours. To nourish your own adventure fix, here are some of the best links we've discovered this week…
Crossing Australia: Inspired by Robyn Davidson's similar 1970s venture, Sophie Matterson and her five camels make their way 4,000km across Australia through the Great Victoria, Tirari and Strzelecki Deserts and other remote areas.
Drawing Lines, Transcending Pain: Climber and adventure creative Renan Oztark takes us back to his life as a dirtbag, and through the storied 2008 attempt on the Shark's Fin of Mount Meru.
Canyoneering: The story of opening one of the biggest canyons in the world. The Chamjé Khola canyon lies right in the heart of the Nepal Himalaya, between the Annapurnas and Manaslu.
The Musk Ox and Me: American journalist Jon Lee Anderson tells of how one summer spent trying to track muskoxen in Alaska in the late 1970s led to a lifetime on the road.
Local Hero: Alpinist profiles Anna Piunova, editor-in-chief of Mountain.ru. Piunova was instrumental in coordinating the helicopter rescue of Alex Gukov from Latok I in 2018.
Fifty Films: Similar to ExWeb, Sidetracked put together a series of 50 adventure films to entertain us during lockdown. There are quite a few in here that didn't feature on our lists.
About the Author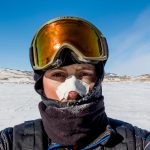 Ash Routen
Ash is an outdoor and adventure writer from the UK. He juggles a day job as a public health scientist with a second career in outdoor writing.

His words have featured in national newspapers, international magazines, and on various websites. Major bylines include Financial Times, Daily Telegraph, Porsche, Outside Magazine, Rock and Ice, and Red Bull.

He holds two degrees in Exercise and Health Sciences, and a PhD in Public Health.

His areas of expertise are polar expeditions, mountaineering, hiking, and adventure travel. In his spare time Ash enjoys going on small independent sledding expeditions, outdoor photography, and reading adventure literature.

Read more at www.ashrouten.com or follow Ash via @ashrouten on Twitter and Instagram.