Here at ExWeb, when we're not outdoors, we get our adventure fix by exploring social media and the wider interweb. Sometimes we're a little too plugged in, and browsing interesting stories turns from minutes into hours. To nourish your own adventure fix, here are some of the best links we've discovered this week…
Northern Elements: A short ski film set in the remote Coast Range of British Columbia, with pro shredders Angela Percival, Jill MacDonald, Sylvia Moser and Christina Lusti.
Farthest North: Interview with the author of a new book on Elisha Kent Kane, the first American polar explorer, who in 1854 went looking for missing British captain Sir John Franklin and his crew.
I Came To Kayak: A kayaker discovers the joys of paddling around Pond Inlet, the northernmost village on Baffin Island, in the Canadian Arctic.
Himalayan Legend: With the release of a new biography on Frank Smythe, mountain blogger Mark Horrell pulls out some of the more interesting facts on the British mountaineer, who was one of the first to make a career of climbing, writing and photography.
A Year in Space: NASA astronaut Scott Kelly spent nearly a year on the International Space Station from 2015 to 2016. Here's what it did to him.
Historical Baddass: Despite being a weekend warrior, Sonia Livanos was an alpine climbing machine in the 1950s and 1960s.
About the Author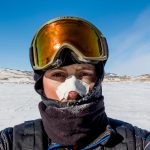 Ash Routen
Ash is an outdoor and adventure writer from the UK. He juggles a day job as a public health scientist with a second career in outdoor writing.

His words have featured in national newspapers, international magazines, and on various websites. Major bylines include Financial Times, Daily Telegraph, Porsche, Outside Magazine, Rock and Ice, and Red Bull.

He holds two degrees in Exercise and Health Sciences, and a PhD in Public Health.

His areas of expertise are polar expeditions, mountaineering, hiking, and adventure travel. In his spare time Ash enjoys going on small independent sledding expeditions, outdoor photography, and reading adventure literature.

Read more at www.ashrouten.com or follow Ash via @ashrouten on Twitter and Instagram.