Here at ExWeb, when we're not outdoors, we get our adventure fix by exploring social media and the wider interweb. Sometimes we're a little too plugged in, and browsing interesting stories turns from minutes into hours. To nourish your own adventure fix, here are some of the best links we've discovered this week…
The Art of Exploring: This excellent piece from anthropologist and writer Wade Davis really strikes at the heart of what ExWeb is all about. I can't summarize this better than the article's subhead: After centuries of meaningless discoveries and empty triumphs, today's would-be explorers need to learn to look beyond "the shadow of self".
Genesis: Climber Steve Roper reflects on coming of age in Yosemite, discovering the power of writing, the birth of Ascent, and more.
Chasing Your Dreams: A fascinating podcast interview with Australian Jon Muir, one of the most accomplished all-round adventurers of recent decades. Muir is perhaps best known for his 2,500km solo walk across Australia, in which he scavenged his food and found his own water.
One Step Beyond: Kilian Jornet is the most outrageously talented mountain runner ever, dashing up peaks in blazing new records. But how does Jornet cope with his new life as a social influencer?
Local Hero: Alpinist magazine profiles Khamsang Wangdi Sherpa, who started the Sherpa Guide School in 1966 in the north Indian state of Himachal Pradesh.
Doctor Doom: Last autumn, Mark Twight, one of the most influential alpinists of the 1980s and 1990s, spoke at the Banff Festival on death, love and climbing.
About the Author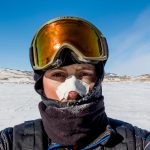 Ash Routen
Ash is an outdoor and adventure writer from the UK. He juggles a day job as a public health scientist with a second career in outdoor writing.

His words have featured in national newspapers, international magazines, and on various websites. Major bylines include Financial Times, Daily Telegraph, Porsche, Outside Magazine, Rock and Ice, and Red Bull.

He holds two degrees in Exercise and Health Sciences, and a PhD in Public Health.

His areas of expertise are polar expeditions, mountaineering, hiking, and adventure travel. In his spare time Ash enjoys going on small independent sledding expeditions, outdoor photography, and reading adventure literature.

Read more at www.ashrouten.com or follow Ash via @ashrouten on Twitter and Instagram.