Poor conditions have continued on the Greenland Ice Sheet, with storms and hurricane-force winds pinning down some teams for days. As continuing bad weather is forecast for next week, two teams have taken decisive action and changed their plans.
Norwegian guide Are Johansen and British client Preet Chandi have done a U-turn and are now retracing their steps back to the east coast. On August 13, after 17 days of travel and six days tent-bound, they decided to abort. At the time, they had two weeks of food remaining. The pair chose not to evacuate by helicopter, except in an emergency.
"It is a different trip now. It's about survival. It's about getting out," said Johansen and Chandi in a recent update. Their reverse progress has been steady over the last few days, and Johansen is an experienced guide.
Dixie Dansercoer's team continued to progress until two members decided to pull out early for "professional reasons", whatever that means, by catching a helicopter ride to Upernavik, the nearest town. Matthieu Tordeur had the option to continue another 588km to Qaanaaq with Dansercoer, but he also decided to leave early. The four of them spent five days holed up 94km short of Upernavik in a heavily crevassed area. After one aborted pickup abecause of poor visibility, the helicopter finally reached them this morning, on the sixth day of waiting. Total mileage was 853km in 24 days.
It's not all bad news, though. Despite the poor weather, Norwegian sisters Aase and Hanne Seeberg are now nearing their final destination of Kangerlussuaq. On Tuesday and Wednesday, they sat out 100kph winds in the tent. Since then, they have made good  progress and reached the upper icefall yesterday. They roped up, but dealing with fresh snow and whiteouts has made the going slow and picky. They are expected to reach Kang on the weekend or slightly after.
About the Author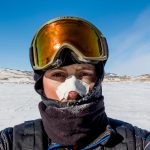 Ash Routen
Ash is an outdoor and adventure writer from the UK. He juggles a day job as a public health scientist with a second career in outdoor writing.

His words have featured in national newspapers, international magazines, and on various websites. Major bylines include Financial Times, Daily Telegraph, Porsche, Outside Magazine, Rock and Ice, and Red Bull.

He holds two degrees in Exercise and Health Sciences, and a PhD in Public Health.

His areas of expertise are polar expeditions, mountaineering, hiking, and adventure travel. In his spare time Ash enjoys going on small independent sledding expeditions, outdoor photography, and reading adventure literature.

Read more at www.ashrouten.com or follow Ash via @ashrouten on Twitter and Instagram.