"The fire is BIG," Felix Berg of SummitClimb told ExplorersWeb, after speaking with a guide who is currently climbing Kilimanjaro with two clients. The three of them are spending tonight in the Second Cave camp on the relatively quiet Rongai route, on the Mawenzi (northeast) side of the mountain. The fire has not affected them except for the distant roar of flames.
The fire started last Sunday between the first and second camps of the hyper-popular Marangu route, on the mountain's southeast side. It is known as the Coca-Cola route because it hosts the biggest crowds on the mountain and features relatively well-supplied huts.
A number of international trekking groups have seized the chance to visit the roof of Africa without crowds. But the Marangu and Mweka routes are now closed, and climbers there are being evacuated. "They are redirecting the people descending to the Kilema, an escape route leading down from Horombo camp," said Berg. According to several sources, at least seven international parties are being evacuated from the mountain.
In the last five days, the fire has burned 28 square kilometers (11 square miles) of vegetation and is strongest in the area of Kifunika Hill, officials told Deutsche Welle.
Hundreds of volunteers and firefighters have not managed to contain the fire, fanned by strong winds in the dry season. All eyes are now fixed on the sky, hoping for rain. "It's cloudy now, it looks like rain [is coming]," said Berg. "Let's hope that takes care of it."
About the Author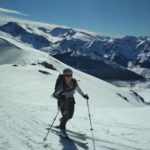 Angela Benavides
Senior journalist, published author and communication consultant. Specialized on high-altitude mountaineering, with an interest for everything around the mountains: from economics to geopolitics. After five years exploring distant professional ranges, I returned to ExWeb BC in 2018. Feeling right at home since then!