Here at ExWeb, when we're not outdoors, we get our adventure fix by exploring social media and the wider interweb. Sometimes we're a little too plugged in, and browsing interesting stories turns from minutes into hours. To nourish your own adventure fix, here are some of the best links we've discovered this week…
Death at Sea: Outside magazine does a deep dive on Angela Madsen and her final, fatal voyage. We learn a lot about the marine/paralympian/speaker/rower, although it seems that what happened the morning she went into the water to fix her sea anchor will never be known.
Trump is Going to Ruin Rock Climbing: If the elected leaders in the U.S. don't start protecting public lands and regulating emissions, it could mean the end of outdoor recreation in America, argues climber Tommy Caldwell.
A One-Armed Legendary River Runner: Meet the man behind the first descent of the Colorado River through the Grand Canyon. He did it in a wooden boat, with one arm.
Man in the Mirror: The story behind the first ascent of a hard new route on the Northwest Face of the Mirror Wall in Greenland, after 12 nights on portaledges, by Leo Houlding and his band of misfits.
Top 10 books about the Himalaya: Ed Douglas, author of a new tour de force on the Himalaya, selects 10 of his favorite books on the "stupendously wild boundary between India and Tibet".
Has Nature Gotten Louder? During the current pandemic, it seems as if someone has turned the volume up on the natural world. According to Chris Watson, the man behind the wildlife soundtracks on David Attenborough's documentaries, we're just becoming better listeners.
A Pandemic Journey That Puts Odysseus to Shame: One scientist started in the Arctic Ocean and ended up crossing the Russia-Finland border on a folding bicycle.
The New Yorker and Tenzing Norgay: A vintage New Yorker article, subtitled,"Tenzing Norkay has been on more Everest expeditions than any other man, and he probably 'deserved', if anyone did, to reach the top."
About the Author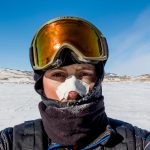 Ash Routen
Ash is an outdoor and adventure writer from the UK. He juggles a day job as a public health scientist with a second career in outdoor writing.

His words have featured in national newspapers, international magazines, and on various websites. Major bylines include Financial Times, Daily Telegraph, Porsche, Outside Magazine, Rock and Ice, and Red Bull.

He holds two degrees in Exercise and Health Sciences, and a PhD in Public Health.

His areas of expertise are polar expeditions, mountaineering, hiking, and adventure travel. In his spare time Ash enjoys going on small independent sledding expeditions, outdoor photography, and reading adventure literature.

Read more at www.ashrouten.com or follow Ash via @ashrouten on Twitter and Instagram.