Here at ExWeb, when we're not outdoors, we get our adventure fix by exploring social media and the wider interweb. Sometimes we're a little too plugged in, and browsing interesting stories turns from minutes into hours. To nourish your own adventure fix, here are some of the best links we've discovered this week…
The Time I Was Bitten by a Bear and Didn't Know It: In the early hours of this summer, Ezra Smith was sleeping in a tent in backcountry Montana with a friend. The two women soon realized that they weren't alone.
The Night Climbers of Cambridge: Back in the 19th Century, the sport of climbing was developed by pipe-smoking gents from the very best universities.
The Ultimate Weekend Warriors: Rock and Ice catch up with husband-and-wife climbing team Jeff and Priti Wright, who made the first ascent of K6 Central (7,155m) earlier this month.
Avalanche Beacon Malfunction: Skiers in the United States have called for the Pieps avalanche beacon, distributed by Black Diamond, to be taken off the shelves after a troubling malfunction with the device.
Circus Antarctica: Recognized classification systems for alpinism, climbing, sailing, paragliding and canoeing have existed for decades, but categorizing of polar journeys has been ad hoc and inconsistent. A new classification model gives long-awaited guidelines for those wanting to rate their journeys at the ends of the earth.
An Incredible Scar: To document how the Trump administration has wrought havoc on national parks across the country, journalist Samuel Gilbert visited four distinct wilderness areas near the infamous "wall", which is fragmenting protected habitats and threatening endangered species.
A New Morning: A short film about climber Federica Mingolla, whose path from gym walls to the mountains, from a young athlete to a complete mountaineer, was not easy.
About the Author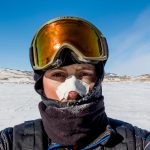 Ash Routen
Ash is an outdoor and adventure writer from the UK. He juggles a day job as a public health scientist with a second career in outdoor writing.

His words have featured in national newspapers, international magazines, and on various websites. Major bylines include Financial Times, Daily Telegraph, Porsche, Outside Magazine, Rock and Ice, and Red Bull.

He holds two degrees in Exercise and Health Sciences, and a PhD in Public Health.

His areas of expertise are polar expeditions, mountaineering, hiking, and adventure travel. In his spare time Ash enjoys going on small independent sledding expeditions, outdoor photography, and reading adventure literature.

Read more at www.ashrouten.com or follow Ash via @ashrouten on Twitter and Instagram.