Here at ExWeb, when we're not outdoors, we get our adventure fix by exploring social media and the wider interweb. Sometimes we're a little too plugged in, and browsing interesting stories turns from minutes into hours. To nourish your own adventure fix, here are some of the best links we've discovered this week…
Arctic Highlining: This short film follows six world-class slackliners on a mission deep into the Norwegian mountains to attempt something new: walking a highline strung between two colossal cliffs, lit by only the northern lights.
The Moth and the Mountain: UK Climbing Editor Natalie Berry poses some thoughtful questions to the author of a new book on Maurice Wilson, perhaps Everest's most peculiar casualty.
Snow Hunters: Every year, a group of dedicated volunteers head into the mountains to measure the last remaining snow in the UK.
How the Pandemic Has Changed Backcountry Safety: A study from the Colorado Avalanche Information Center has indicated something counterintuitive — experience doesn't always correspond with safety.
World's Biggest Iceberg Parade: Picture a scene where hundreds of bergs float past in an eye-catching parade. This is Iceberg Alley, Newfoundland. A related article covers the place in Greenland where many of those icebergs originate, the Ice Fiord at Ilulissat.
The Real Thing: Climber Charlie Fowler dirtbagged around the world, soloing the Eiger and countless difficult alpine lines, before perishing on a remote peak in China around 15 years ago.
She Dived 100m Deep: Alenka Artnik of Slovenia recently set a record in free diving. But her race to the bottom may not be over.
About the Author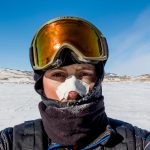 Ash Routen
Ash is an outdoor and adventure writer from the UK. He juggles a day job as a public health scientist with a second career in outdoor writing.

His words have featured in national newspapers, international magazines, and on various websites. Major bylines include Financial Times, Daily Telegraph, Porsche, Outside Magazine, Rock and Ice, and Red Bull.

He holds two degrees in Exercise and Health Sciences, and a PhD in Public Health.

His areas of expertise are polar expeditions, mountaineering, hiking, and adventure travel. In his spare time Ash enjoys going on small independent sledding expeditions, outdoor photography, and reading adventure literature.

Read more at www.ashrouten.com or follow Ash via @ashrouten on Twitter and Instagram.