At one time, you could be forgiven for mistaking British mountaineer Doug Scott for the late Beatle John Lennon — same stringy hair, beard, and round wire glasses.
But Scott didn't just have the look, he had the talent to match. From the early 1970s to late 1980s, he was a true rock star of mountaineering: so much so, that for young male climbers, a photo of Scott on the summit of Everest often replaced the usual pin-up girl on their wall.
Doug Scott died today of cerebral lymphoma, a form of brain cancer. He was 79.
Scott came from the city of Nottingham in the Midlands of the UK, known to our international audience as the home of the legendary outlaw, Robin Hood. Nottingham also happens to be located conveniently near the limestone and gritstone outcrops of the Peak District, a mecca for British climbers. Born in 1941, Scott first hit Peak District rock in the early 1950s, the heyday of a young Joe Brown and Don Whillans, and a period of great progression in British rock climbing.
During the 1950s, Scott's apprenticeship in the sport led him from small gritstone outcrops in England to challenging winter climbs in Scotland and eventually the Alps. On his first alpine season in 1958, Scott survived a 25m fall on the smooth rock tower of the Aiguille du Peigne, near the more famous Aiguille du Midi in Chamonix.
A few years later, after qualifying as a school teacher, a young Scott was on the summit of Mont Blanc at the very moment that Chris Bonington and Don Whillans, already established stars, stole the unclimbed prize of the Freney Pillar on Mont Blanc from local climbers. Little did he know then, but Scott would join forces with Bonington in the decades to come and write new chapters in Himalayan mountaineering history.
While continuing to hold down his school teacher's job, Scott really began to hit his stride in the 1960s. He put up new routes in the UK, the Alps, the Atlas Mountains, and in the high reaches of the Hindu Kush. He also developed a penchant for big walls and overhangs. For example, in 1970, Scott teamed up with talented Austrian Peter Habeler to make the first European ascent of the Salathe Wall on El Capitan. The rising British star coupled rock skills with rapidly developing expertise in extreme mountain environments.
Scott had a particularly busy 1972: He climbed in the Alps, reached 8,000m on a European Everest SW Face attempt, put up a new route on Mount Asgard on Baffin Island, then figured in Chris Bonington's first assault on the SW Face of Everest, where he, Dougal Haston and Mick Burke reached 8,300m. After joining the 1974 Indo-British first ascent of the "Shining Mountain", (Changabang, 6,864m), Scott was invited on Bonington's well-funded 1975 Everest SW Face adventure.
Bonington later wrote about Scott: "Like the traditional picture of the bear, he has a latent strength and violence in his make-up but, at the same time, is very loveable, with a warm, emotional spontaneity. I have never known anyone with such an appetite for climbing."
Scott had to call upon that latent strength a year later, when he had to bivouac in a snow cave on the South Summit of Everest, 100m from the top. After successfully overcoming the hitherto unclimbed SW Face, Scott and Haston — at the spearhead of a richly talented group of climbers — followed the Southeast Ridge to the summit on 24 September 1975, becoming the first Britons to do so. But they reached the summit late in the day, and their subsequent unplanned night out was the highest bivouac in history. No down clothing, no sleeping bag, and exhausted oxygen supplies. The cracking of the complex SW Face, and that night out on the roof of the world, are rightly considered major feats in the history of Himalayan climbing.
Everest was hardly the zenith of Scott's courage. Two years later, he proposed a lightweight, alpine-style attempt on the unclimbed Ogre (Baintha Brakk, 7,285m) in the Karakorum. After topping out on the virgin summit with Chris Bonington, Scott shattered both of his legs when abseiling down a gully. Thus began a now-famous, week-long crawl to Base Camp from over 7,000m, which included Bonington himself abseiling off the end of the rope and breaking his ribs. As with the Everest bivouac, this close shave has become one of the epics of mountaineering history.
This grittiness and acceptance of failure was one of Scott's greatest strengths. He made four alpine-style attempts on K2, Nanga Parbat, and Makalu, without success — perhaps not surprising, considering the difficulty of enacting alpine-style principles in the high mountains. Through the late 1970s and beyond, Scott became one of the leading proponents of this purist approach to high-altitude climbing.
There are too many of these notable lightweight ascents to list them all, but a particular highlight must be the 1979 first ascent of the North Ridge of Kangchenjunga, without oxygen, with Joe Tasker and Pete Boardman. "We pulled it off against all the odds, really," Scott later recalled. "Looking back, that was the most demanding climb I ever did. It was the first time a big mountain had been climbed lightweight, without masses of fixed ropes, without a lot of Sherpa support."
In recognition of this focus on style at high altitude, Scott was awarded the Piolet D'or Lifetime Achievement Award in 2011. The citation read, in part: "Doug Scott personifies mountaineering adventure and exploration on summits the world over. He is the type of visionary who has shown that it is possible to climb some of the highest summits on the globe, or in the Alps, while in the company of a few friends and with just the contents of a backpack."
Besides Scott's climbing achievements, the Piolet D'or committee also noted his community work. In the late 1980s, Scott co-founded Community Action Nepal, a charity which has tackled a range of projects relating to health, education, and the local economy in Nepal.
As his high-level climbing commitments wound down in the late 1990s, Scott devoted more time to this charity work and to other roles, such as the presidency of the Alpine Club and membership on the UIAA Management Committee. Locally, Scott was awarded the Freedom of Nottingham, a number of honorary doctorates, had a tram named after him, and became a Commander of the British Empire (CBE).
Behind the climber and public figure, Scott was an interesting, humorous and relatable character. Everyone who knew Doug Scott has a funny story about him. Some involved invitations to his home (where you had to make your own refreshments), tales from the bar, and various quirky habits. Or the time he had just arrived back from France and strolled into his latest presentation carrying a huge wheel of cheese, which he duly shared after a few beers.
And that's why there was a huge outpouring of support from the mountaineering community this summer, when it was announced that Scott had an inoperable brain tumor. In typical fashion, the British climber took the diagnosis in stride, donning his blue nylon Everest '75 summit suit to raise money for Community Action Nepal by hauling his ailing body up the stairs of his home. Scott's efforts have been replicated by other members of the 1975 Everest SW Face team, as well as by climbers around the world, including Reinhold Messner and Conrad Anker.
With 40 summits of high mountains in Asia (with over half of them done alpine-style or via new routes), new climbs from the Arctic to the Atlas, all seven summits scaled, and a legacy as a driving force of lightweight alpinism in the Himalaya, Doug Scott became a unique and unforgettable character in the history of mountaineering.
Doug Scott died in his sleep last night, December 7.
About the Author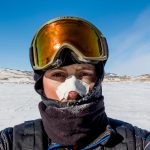 Ash Routen
Ash is an outdoor and adventure writer from the UK. He juggles a day job as a public health scientist with a second career in outdoor writing.

His words have featured in national newspapers, international magazines, and on various websites. Major bylines include Financial Times, Daily Telegraph, Porsche, Outside Magazine, Rock and Ice, and Red Bull.

He holds two degrees in Exercise and Health Sciences, and a PhD in Public Health.

His areas of expertise are polar expeditions, mountaineering, hiking, and adventure travel. In his spare time Ash enjoys going on small independent sledding expeditions, outdoor photography, and reading adventure literature.

Read more at www.ashrouten.com or follow Ash via @ashrouten on Twitter and Instagram.