Here at ExWeb, when we're not outdoors, we get our adventure fix by exploring social media and the wider interweb. Sometimes we're a little too plugged in, and browsing interesting stories turns from minutes into hours. To nourish your own adventure fix, here are some of the best links we've discovered this week…
Why K2 Brings Out the Best and Worst in Those Who Climb It: K2 has killed many a fine climber — think Alan Rouse and Alison Hargreaves — but more than that, it seems to afflict expeditions with both bad feelings and bad weather.
The Fine Line: The late American alpinist Jess Roskelley turned his hand to writing between expeditions. This 2019 one for Rock and Ice recounts cutting it close on Mount Huntington.
A Brief Excursion into Skiing's Cyborg Future: Last winter, a robotics firm released a revolutionary exoskeleton promising to boost skiing performance by supporting knees and quads.
Gripping Sweaty Palms: A short film of Swiss climber Bernhard Witz highlining in Norway without a leash or tether. Well-shot by Chamonix-based filmmaker Seb Montaz.
Fighting for Madagascar's Biodiversity: It's home to an incomprehensible number of endemic creatures, but almost all of Madagascar's lemur species face extinction. What's being done? Meera Dattani visits the world's fourth-largest island to find out.
The Tibesti Mountains: Inspired by a trip to the Atlas Mountains, Doug Scott set off in 1964 on a trip to the Tibesti Mountains. He bought three army trucks and crossed the Sahara to Chad.
Biking the World on a Penny-Farthing: A fascinating interview with Joff Summerfield, who built a penny-farthing bicycle and cycled 61,000km around the world on it.
About the Author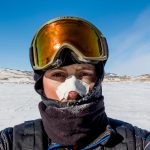 Ash Routen
Ash is an outdoor and adventure writer from the UK. He juggles a day job as a public health scientist with a second career in outdoor writing.

His words have featured in national newspapers, international magazines, and on various websites. Major bylines include Financial Times, Daily Telegraph, Porsche, Outside Magazine, Rock and Ice, and Red Bull.

He holds two degrees in Exercise and Health Sciences, and a PhD in Public Health.

His areas of expertise are polar expeditions, mountaineering, hiking, and adventure travel. In his spare time Ash enjoys going on small independent sledding expeditions, outdoor photography, and reading adventure literature.

Read more at www.ashrouten.com or follow Ash via @ashrouten on Twitter and Instagram.