Here at ExWeb, when we're not outdoors, we get our adventure fix by exploring social media and the wider interweb. Sometimes we're a little too plugged in, and browsing interesting stories turn from minutes into hours. To nourish your own adventure fix, here are some of the best links we've discovered this week…
Pioneer Passes: George Whitmore, who made the first ascent of the Nose on El Capitan with Warren Harding and Wayne Merry, died from COVID-19 complications recently.
The Untold Story: An excellent long read (30 mins) of Borge Ousland and Mike Horn's 2019-20 winter journey across the Arctic Ocean. Another excellent piece from Aaron Teasdale.
No Filter: Social media has given everyone in the adventure world a platform, and consequently an unvetted chance at fame. No better example than Colin O'Brady and this year's quest for the "Impossible Summit."
Skiing Pioneer: In the late 1960s, a young mountain guide survived a plane crash and five days in the British Columbia backcountry. He later went on to shape the modern ski industry.
Journey to the Center of the Earth: For nearly half a century, legends of a giant cave in the Andes — holding artifacts that could rewrite human history — have beckoned adventurers and fans of the supernatural.
Naked Fugitive Rescued: Two fishermen brought home a bigger catch than they were expecting when they rescued a naked fugitive from a crocodile-infested mangrove in northern Australia.
Historical Badass: A well-researched overview of the life and times of the recently deceased mountaineer Hamish MacInnes, including his last stand against dementia, and his innovations in mountain rescue and climbing equipment.
Tips on Enduring Boredom: How the polar explorers whiled away the dark months can help us overcome the COVID blues.
About the Author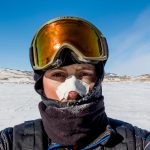 Ash Routen
Ash is an outdoor and adventure writer from the UK. He juggles a day job as a public health scientist with a second career in outdoor writing.

His words have featured in national newspapers, international magazines, and on various websites. Major bylines include Financial Times, Daily Telegraph, Porsche, Outside Magazine, Rock and Ice, and Red Bull.

He holds two degrees in Exercise and Health Sciences, and a PhD in Public Health.

His areas of expertise are polar expeditions, mountaineering, hiking, and adventure travel. In his spare time Ash enjoys going on small independent sledding expeditions, outdoor photography, and reading adventure literature.

Read more at www.ashrouten.com or follow Ash via @ashrouten on Twitter and Instagram.