Here at ExWeb, when we're not outdoors, we get our adventure fix by exploring social media and the wider interweb. Sometimes we're a little too plugged in, and browsing interesting stories turn from minutes into hours. To nourish your own adventure fix, here are some of the best links we've discovered this week…
Ten Great Sherpas: The internet is awash with praise for the historic all-Sherpa ascent of K2 in winter. But how many casual observers really know their onions when it comes to the Tigers of the Snow? Here are 10 Sherpas who paved the way for the modern generation.
Shadows on the Silk Road: Since 2013, Paul Salopek has been walking around the world to trace the roaming of Homo sapiens, who first left Africa during the Stone Age. Along the way, Salopek has found omens of American decline.
Wrongful Death? Peter Marshall was buried and killed in an avalanche during a safety class in the Colorado Mountains. His family says the school, guide, and an equipment company violated a raft of laws that led to his death.
Killer Bees: A climber's experience of being attacked by killer bees on a multi-pitch route in Texas. He colorfully describes the cliff as "vomiting a horde of tiny daggers" at him.
Forgotten in the Archives: Another great Historical Badass piece from Adventure Journal. This time, it profiles Cora Smith Eaton, a suffragette, physician, and pioneering mountaineer.
Remembering Barry Lopez: A friend of the revered environmental writer recalls Lopez's explorations of our need to live justly with each other and with the earth.
About the Author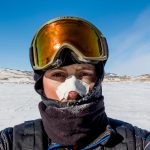 Ash Routen
Ash is an outdoor and adventure writer from the UK. He juggles a day job as a public health scientist with a second career in outdoor writing.

His words have featured in national newspapers, international magazines, and on various websites. Major bylines include Financial Times, Daily Telegraph, Porsche, Outside Magazine, Rock and Ice, and Red Bull.

He holds two degrees in Exercise and Health Sciences, and a PhD in Public Health.

His areas of expertise are polar expeditions, mountaineering, hiking, and adventure travel. In his spare time Ash enjoys going on small independent sledding expeditions, outdoor photography, and reading adventure literature.

Read more at www.ashrouten.com or follow Ash via @ashrouten on Twitter and Instagram.