As eight members of the successful summit team recuperated in Camp 3 today from their 20+ hour push, Galje Sherpa and Sona Sherpa continued to Base Camp and reached it this afternoon. As darkness descends on the Karakorum, there will be no more activity today.
In the meantime, further information on this historic first winter ascent is emerging. Seven Summit Treks just posted this video featuring Sona Sherpa a few metres from the summit, waiting for the full group to gather in order to reach the top together.
About the Author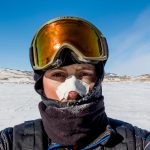 Ash Routen
Ash is an outdoor and adventure writer from the UK. He juggles a day job as a public health scientist with a second career in outdoor writing.

His words have featured in national newspapers, international magazines, and on various websites. Major bylines include Financial Times, Daily Telegraph, Porsche, Outside Magazine, Rock and Ice, and Red Bull.

He holds two degrees in Exercise and Health Sciences, and a PhD in Public Health.

His areas of expertise are polar expeditions, mountaineering, hiking, and adventure travel. In his spare time Ash enjoys going on small independent sledding expeditions, outdoor photography, and reading adventure literature.

Read more at www.ashrouten.com or follow Ash via @ashrouten on Twitter and Instagram.