A week after the first winter ascent of K2, climbers who hope to duplicate the Nepali feat will soon make their move, as clear weather approaches and summit winds die down.
Icelander John Snorri and Pakistan's Ali and Sajid Sadpara will leave Base Camp this evening, aiming to reach Camp 3 by midday on Sunday. They will rest for the afternoon, then leave for the summit early on Sunday evening. Snorri estimates that they could reach it by 9 am Monday.
Although Snorri's climbing permits states that the Sadparas have been hired as "high-altitude porters," Ali Sadpara is undoubtedly the strongest and most experienced of the three.
His son Sajid has suggested that he will climb without oxygen but will carry a bottle for emergencies. No news yet on whether Snorri or Ali Sadpara will use oxygen or not.
According to Sadpara senior, a successful summit is by no means guaranteed: "It's a very ambitious plan, and conditions are not easy, but we are positive and ready for it."
Elsewhere, Arab News has published an interview with Nirmal Purja and some of the successful summiters from last weekend. Their message was mainly one of the power of unity. "We just wanted to show the world that if we unite, we can make the impossible possible," Purja said.
Note that although the team originally reported light winds on summit day, Gelje Sherpa (below middle) and Pem Chirri Sherpa (left) display frostnip on their cheeks, suggesting that the wind wasn't entirely calm and that it came from their right side. About his frostbite, Gelje jokes, "I am the younger person [to climb the mountain], that's why I got a kiss from K2."
About the Author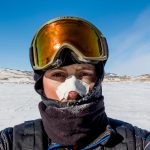 Ash Routen
Ash is an outdoor and adventure writer from the UK. He juggles a day job as a public health scientist with a second career in outdoor writing.

His words have featured in national newspapers, international magazines, and on various websites. Major bylines include Financial Times, Daily Telegraph, Porsche, Outside Magazine, Rock and Ice, and Red Bull.

He holds two degrees in Exercise and Health Sciences, and a PhD in Public Health.

His areas of expertise are polar expeditions, mountaineering, hiking, and adventure travel. In his spare time Ash enjoys going on small independent sledding expeditions, outdoor photography, and reading adventure literature.

Read more at www.ashrouten.com or follow Ash via @ashrouten on Twitter and Instagram.