The Manaslu climbers are in temporary limbo after a huge, unbridgeable crevasse between Camp 1 and Camp 2 spoiled their plans for a swift ascent.
Today, Alex Txikon scouted the area, looking for a detour. Then, according to his tracker, he returned to Camp 1.
Vinayak Jay Malla posted a short video showing the size of the crevasse, which forced him and Tenji Sherpa back to Base Camp. Malla admits that he is disappointed to have had to abort their plans for a light ascent. Instead, they wait for reinforcements. "[We] will team up with some of the Nepali legends who recently conquered K2," he said. He mentioned no names but it seems that Nirmal Purja will not be among them, according to an interview Purja just gave with Rock and Ice.
About the Author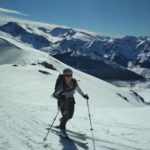 Angela Benavides
Senior journalist, published author and communication consultant. Specialized on high-altitude mountaineering, with an interest for everything around the mountains: from economics to geopolitics. After five years exploring distant professional ranges, I returned to ExWeb BC in 2018. Feeling right at home since then!