French adventurer Vincent Colliard and filmmaker Caroline Cote are in Svalbard, preparing to leave on a 1,000km sled haul around the Norwegian archipelago.
The pair will set off on February 1 from the capital of Longyearbyen and ski a 1,000km loop unsupported back to their starting point by the beginning of April.
Colliard is best known as Borge Ousland's protégé and partner on the Ice Legacy project, in which they are crossing the 20 largest glaciers in the world on skis. Colliard has also guided in Antarctica, sailed the Northwest Passage, across the Atlantic, and attempted to sail/haul across the Arctic Ocean in summer.
Cote is known for her work in adventure filmmaking and photography, but she has also made first ascents of peaks in Antarctica, paddled the Yukon from Whitehorse to the Bering Sea, and sailed the Atlantic.
Temperatures in Longyearbyen are a modest -20˚C at the moment, but the duo will be traveling during the Polar Night until about February 15, when the sun crests the horizon for the first time this winter, briefly. Until then, they will proceed through twilight and darkness. This means that they will need to be especially on guard for the 250+ polar bears that inhabit the archipelago.
About the Author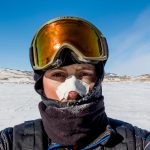 Ash Routen
Ash is an outdoor and adventure writer from the UK. He juggles a day job as a public health scientist with a second career in outdoor writing.

His words have featured in national newspapers, international magazines, and on various websites. Major bylines include Financial Times, Daily Telegraph, Porsche, Outside Magazine, Rock and Ice, and Red Bull.

He holds two degrees in Exercise and Health Sciences, and a PhD in Public Health.

His areas of expertise are polar expeditions, mountaineering, hiking, and adventure travel. In his spare time Ash enjoys going on small independent sledding expeditions, outdoor photography, and reading adventure literature.

Read more at www.ashrouten.com or follow Ash via @ashrouten on Twitter and Instagram.