French adventurers Vincent Colliard, Sébastien Roubinet and Eric André continue to edge north as they try to sail across the Arctic Ocean from Alaska to Svalbard. Three days ago, they passed 75 degrees of latitude in the Beaufort Sea. They still have most of the way to go — it's another 1,500km just to the North Pole — but the Arctic Ocean ice begins to open up significantly in mid-August.
Colliard and Roubinet were plucked from thick ice by an icebreaker at the 82nd parallel on their failed attempt in 2013, so the team still has weeks to go before they revisit that critical area on their current expedition.
On July 22, they were able to get their first meaningful period of sailing under their belt as they covered 15 nautical miles in open water, plus another 8 miles hauling across ice:
Mid-afternoon, the fog surrounds and it's hard to know where to go, so we stop for a coffee. Then it clears. The whole sky is still overcast. In a couple of places, the clouds are way darker! The ice reflects white in a cloudy sky whereas the open water reflects dark grey. We are aiming straight to the dark grey … We encounter water for a short while before getting back on the ice. We meet the water again when the fog reappears. At that time, we can't imagine that we'll be sailing until late evening. But we do.
Most of the time, the team has been navigating around small, rafted-up ice pieces and hauling over or evading the vast floes still bonded together. The wind sometimes forces them to change direction 70 times a day. But when conditions are good, they can cover up to 70 nautical miles in 24 hours.
"Once upon a time, three donkeys were pulling and pushing, sometimes forward, sometimes backward, a sail-ski boat on the sea ice of the Arctic Ocean … Donkeys aren't very common in this part of the world, though. Legends say they are very rare." Photo: Vincent Colliard
About the Author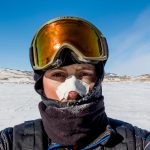 Ash Routen
Ash is an outdoor and adventure writer from the UK. He juggles a day job as a public health scientist with a second career in outdoor writing.

His words have featured in national newspapers, international magazines, and on various websites. Major bylines include Financial Times, Daily Telegraph, Porsche, Outside Magazine, Rock and Ice, and Red Bull.

He holds two degrees in Exercise and Health Sciences, and a PhD in Public Health.

His areas of expertise are polar expeditions, mountaineering, hiking, and adventure travel. In his spare time Ash enjoys going on small independent sledding expeditions, outdoor photography, and reading adventure literature.

Read more at www.ashrouten.com or follow Ash via @ashrouten on Twitter and Instagram.