A second helicopter search today, and the third in the last two days, has turned up no sign of the missing trio of Ali Sadpara, John Snorri, and JP Mohr.
According to Chhang Dawa Sherpa, two Pakistani Army helicopters (one including Sajid Sadpara and Dawa himself) made it up to 7,800m. The searches swept the area around the Abruzzi Spur as well as other routes. Dawa reports poor visibility above Camp 4, and winds of 40kph above 6,400m.
There are no updates on any further search plans, nor about what the two Pakistani climbers who went to Camp 1 last night have managed to accomplish. Barring a miracle, there now seems little hope of finding the three climbers alive.
Elsewhere, Pakistani media are reporting that Sajid Sadpara is now back in Skardu. Social media accounts, including one from Sajid Sadpara, have posted a video interview where Sajid apparently suggests that the three climbers may have had an accident while descending the very technical Bottleneck.
Various reports in the Pakistani media have also stated the three may have reached the summit before disappearing, but there is no way to know this. A proliferation of such fake reports have unfortunately appeared in recent days, alternately increasing and dashing hopes during this tragedy.
About the Author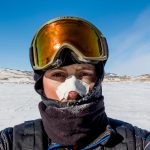 Ash Routen
Ash is an outdoor and adventure writer from the UK. He juggles a day job as a public health scientist with a second career in outdoor writing.

His words have featured in national newspapers, international magazines, and on various websites. Major bylines include Financial Times, Daily Telegraph, Porsche, Outside Magazine, Rock and Ice, and Red Bull.

He holds two degrees in Exercise and Health Sciences, and a PhD in Public Health.

His areas of expertise are polar expeditions, mountaineering, hiking, and adventure travel. In his spare time Ash enjoys going on small independent sledding expeditions, outdoor photography, and reading adventure literature.

Read more at www.ashrouten.com or follow Ash via @ashrouten on Twitter and Instagram.