Here at ExWeb, when we're not outdoors, we get our adventure fix by exploring social media and the wider interweb. Sometimes we're a little too plugged in, and browsing interesting stories turn from minutes into hours. To nourish your own adventure fix, here are some of the best links we've discovered this week.
The Final Descent of Dean Cummings: From the outside, things seemed perfect for the former world extreme skiing champion: He had a family, a successful guiding business, and unending adventure out his front door in Valdez, Alaska. But something dark festered beneath the surface.
A Sacred Place Undone by Trump Must Be Saved by Biden: Well-known adventure writer, and author of a new book on the topic, David Roberts, recently argued in The New York Times that more must be done to protect the compelling and sacred Bear Ears National Monument in the US.
72 Hours in the Mountains of Oman: When you think of the Middle East, certain things spring to mind: deserts, camels, dates, oil… grueling mountain ultra-marathons probably isn't one of them.
Learning Curve: The new editor of Sidetracked, Alex Roddie, reflects on the highlights of his first edition at the helm, including ice-covered grizzly bears and that controversial Gucci and North Face cover shot.
Solitude and Survival at the South Pole: A medical doctor on life down at the Rothera Research Station in Antarctica, which is operated by the British Antarctic Survey (BAS).
Three Storms on Mount Bradley: A first ascent on Mount Bradley in the Alaska Range was supposed to take just a single night.
An Oral History of the First Winter Ascent of K2: A few weeks ago, UK Climbing spoke to Mingma G and Nirmal Purja at length to get their views on the much-debated first winter summit of K2.
About the Author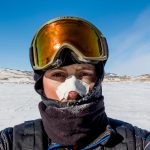 Ash Routen
Ash is an outdoor and adventure writer from the UK. He juggles a day job as a public health scientist with a second career in outdoor writing.

His words have featured in national newspapers, international magazines, and on various websites. Major bylines include Financial Times, Daily Telegraph, Porsche, Outside Magazine, Rock and Ice, and Red Bull.

He holds two degrees in Exercise and Health Sciences, and a PhD in Public Health.

His areas of expertise are polar expeditions, mountaineering, hiking, and adventure travel. In his spare time Ash enjoys going on small independent sledding expeditions, outdoor photography, and reading adventure literature.

Read more at www.ashrouten.com or follow Ash via @ashrouten on Twitter and Instagram.