Two Russian women have set Guinness World Records under the ice. The first was for swimming under the ice, and the second for a static breath hold in ice water.
On March 6, 40-year-old Ekaterina Nekrasova swam 102.7m under the ice without fins or a wetsuit, which Guinness rules proscribe on world record attempts. This handily broke the distance she set in January, when she swam 85m under the ice of Lake Baikal, in Siberia.
Two days later, on March 8, Maria Olshevskaya held her breath in ice water for 4 minutes and 17 seconds. She also did not wear a wetsuit.
The Freediving Federation said that the "weekend turned out to be rich in records for Russian divers" and confirmed that Guinness has accepted both records.
About the Author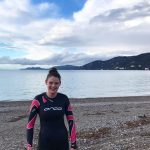 Rebecca is a freelance writer and science teacher based in the UK.

She is a keen traveler and has been lucky enough to backpack her way around Africa, South America, and Asia. With a background in marine biology, she is interested in everything to do with the oceans and aims to dive and open-water swim in as many seas as possible.

Her areas of expertise include open water sports, marine wildlife and adventure travel.