Here at ExWeb, when we're not outdoors, we get our adventure fix by exploring social media and the wider interweb. Sometimes we're a little too plugged in, and browsing interesting stories turn from minutes into hours. To nourish your own adventure fix, here are some of the best links we've discovered this week
A Different View: Filmmaker and adventurer Leon McCarron has been helping to design a hiking trail across Iraqi Kurdistan since 2017, until the pandemic and lockdown halted his work. He recounts his return there, the effect of COVID-19 on local communities, and nature's chance to heal.
Will This Rule Prevent More Viral Photos of Everest? Another take on our story about the new rules on Everest, in which the Nepalese government says it will require climbers and guides to get permission from its Department of Tourism before sharing images of others on the mountain. Enforcing it won't be easy.
Messner Live: This Sunday, you can join Reinhold Messner, arguably the world's best-known mountaineer for an online talk about his many adventures. The event includes an interview session. Runs until 7 pm Eastern Daylight Time (11:59 pm UTC + 1).
Has outdoor culture become too detached from nature? For adventure writer Alex Roddie, mountain hiking and the natural world are closely linked, but it seems that not everyone feels this way.
Ocean to Asgard: A climbing expedition to the huge, rocky monoliths that pepper Baffin Island in the Canadian Arctic.
The End of One Beginning: Picking a definitive spot where a mountain begins is not so easy. The curve between land and mountain is not built for subdivision. Should you start where a climber starts using his hands? Or where the glacier ends?…
First Wolf in 100 Years: A young male wolf has been tracked to Mono County, east of Yosemite National Park, the furthest south a wolf has been spotted in the state "in modern times."
About the Author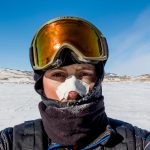 Ash Routen
Ash is an outdoor and adventure writer from the UK. He juggles a day job as a public health scientist with a second career in outdoor writing.

His words have featured in national newspapers, international magazines, and on various websites. Major bylines include Financial Times, Daily Telegraph, Porsche, Outside Magazine, Rock and Ice, and Red Bull.

He holds two degrees in Exercise and Health Sciences, and a PhD in Public Health.

His areas of expertise are polar expeditions, mountaineering, hiking, and adventure travel. In his spare time Ash enjoys going on small independent sledding expeditions, outdoor photography, and reading adventure literature.

Read more at www.ashrouten.com or follow Ash via @ashrouten on Twitter and Instagram.