Here at ExWeb, when we're not outdoors, we get our adventure fix by exploring social media and the wider interweb. Sometimes we're a little too plugged in, and browsing interesting stories turn from minutes into hours. To nourish your own adventure fix, here are some of the best links we've discovered this week.
A Veteran Climber Reconsiders The Everest Selfie: Isn't summiting Everest a train wreck of amateurs and egos? Climber and writer Mark Synnott thought so until he went there — and was surprised by what he found.
Lowered Horizons: Toward the end of a career with an infinitesimal margin of error, the elder statesmen of the American climbing scene, Conrad Anker, mulls what comes next.
Meet Ski Map Artist James Niehues, The Monet of The Mountains: For nearly 35 years, James Niehues has painted some of the world's most iconic mountains. But instead of hanging in galleries, his work appears in the brochures and on the websites of the world's ski resorts. And that's just the way he likes it.
Nine Legendary Bivouacs: A list of people who have had to tough it out overnight in bad situations. Hours of darkness and cold, without a tent, sometimes without a sleeping bag, hell, sometimes without even a decent puffy jacket.
The Scottish Hero of the Arctic Who Was Denied His Place in History: While John Franklin was falsely credited with the discovery of the Northwest Passage, Orcadian John Rae was actually the man who discovered the last piece of a navigable shipping route through the Arctic.
From Everest Load Carriers to K2 Winter Leaders: High altitude climber and guide Robert Mads Andersen on the metamorphosis of Sherpas from support act for Western mountaineers to climbing stars in their own right.
About the Author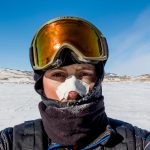 Ash Routen
Ash is an outdoor and adventure writer from the UK. He juggles a day job as a public health scientist with a second career in outdoor writing.

His words have featured in national newspapers, international magazines, and on various websites. Major bylines include Financial Times, Daily Telegraph, Porsche, Outside Magazine, Rock and Ice, and Red Bull.

He holds two degrees in Exercise and Health Sciences, and a PhD in Public Health.

His areas of expertise are polar expeditions, mountaineering, hiking, and adventure travel. In his spare time Ash enjoys going on small independent sledding expeditions, outdoor photography, and reading adventure literature.

Read more at www.ashrouten.com or follow Ash via @ashrouten on Twitter and Instagram.