Here at ExWeb, when we're not outdoors, we get our adventure fix by exploring social media and the wider interweb. Sometimes we're a little too plugged in, and browsing interesting stories turn from minutes into hours. To nourish your own adventure fix, here are some of the best links we've discovered this week
Eustace Conway Wants to Retire. Can 'The Last American Man' Find His Replacement? For over 30 years, mountain man Eustace Conway — preservationist, builder, man out of time — thought he'd rescue America from modernity. Modernity won. So where does that leave him?
Italia — The Airship Crash Chronicle: In 1928, a team of explorers led by Umberto Nobile ventured out to the North Pole onboard the airship Italia. They achieved their objective, but on the way back, the heroic quest turned into a disaster.
Into The Crater: Remarkable drone footage from Iceland's Mount Fagradalsfjall, which erupted last week.
How Inuit Avoid Falling Through Thinning Arctic Ice: Arctic sea ice is thinning, making it increasingly dangerous to snowmobile on the ice highways that Inuit have always used to get around. A new high-tech ice-measuring system helps make travel safer.
Notes from a Moab Trailer: What one man learned about love, loss, and landscape over two decades of living in a 1961 Artcraft mobile home in the Utah desert.
It'll Have Your Bones: Katie Visco ran 3,556km over 119 days from the northern coast in Darwin to Adelaide, through the Tanami, Central, and Simpson deserts, with bicycle support from her husband.
About the Author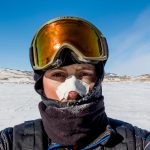 Ash Routen
Ash is an outdoor and adventure writer from the UK. He juggles a day job as a public health scientist with a second career in outdoor writing.

His words have featured in national newspapers, international magazines, and on various websites. Major bylines include Financial Times, Daily Telegraph, Porsche, Outside Magazine, Rock and Ice, and Red Bull.

He holds two degrees in Exercise and Health Sciences, and a PhD in Public Health.

His areas of expertise are polar expeditions, mountaineering, hiking, and adventure travel. In his spare time Ash enjoys going on small independent sledding expeditions, outdoor photography, and reading adventure literature.

Read more at www.ashrouten.com or follow Ash via @ashrouten on Twitter and Instagram.