Here at ExWeb, when we're not outdoors, we get our adventure fix by exploring social media and the wider interweb. Sometimes we're a little too plugged in, and browsing interesting stories turn from minutes into hours. To nourish your own adventure fix, here are some of the best links we've discovered this week.
Mountain Warrior: Sidetracked Magazine catches up with Tamara Lunger for an examination of her traumatic experience on this year's winter K2 expedition.
The Last American Man: Mountain Man Eustace Conway is not like anyone you know. He has perfect vision, perfect balance, perfect reflexes, and travels through life with perfect equanimity. He is smart and fearless and believes he can do anything he sets his mind to — like saving America.
Denali, A Universe: In March 1913, four men and two boys, led by Archdeacon Hudson Stuck, left Fairbanks to begin their long approach to Denali, the tallest mountain in North America. Their journey to the apex of the continent would take more than two months.
Vaccine Passports: In a year that's seen most people unable to travel for leisure, the question on many people's minds, including those whose livelihoods depend on the travel industry, is: When can we travel again? Will the vaccine determine that? And do we have the "right" to travel during a global pandemic?
The Rough Guide to Climbing in the Solar System: The list of people that have summited Everest hovers around 10,000. The long-hoped-for winter ascent of K2 came off in January. The 8000'ers have very much been done in all seasons and in myriad styles of ascent. You might say that there aren't too many virgin, iconic mountains left to climb –- on Earth, that is. Another take on a story we covered last month.
Monitoring the Weather at the Edge of the World: Marsibil Erlendsdottir runs a farm and provides weather reports from a remote outpost in eastern Iceland. The job requires vigilance and unfailing resolve.
Learning Accountability From Mountains: There's something about climbing that distills all cause and effect. The mountains don't accept excuses and don't care who you blame for your choices and actions.
Mountaineer Bradford Washburn Danced on Alaska's Breathtaking Rooftop: Bradford Washburn suffered from terrible hay fever as a child and told friends that he became a mountain climber because the mountains were the only place he could breathe. Others might say he became a mountain climber because he was stubborn.
Make It Real: A climber and his friends train for Himalayan peaks in their tropical Singapore home.
The Last Ice Man of Chimborazo: UK Climbing tells the story of Baltazar Uscha, an indigenous Ecuadorian man whose lifelong career of collecting ice from the country's highest peak, Chimborazo, has made him acutely aware of glacial melt due to climate change.
About the Author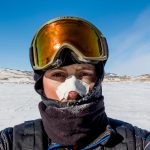 Ash Routen
Ash is an outdoor and adventure writer from the UK. He juggles a day job as a public health scientist with a second career in outdoor writing.

His words have featured in national newspapers, international magazines, and on various websites. Major bylines include Financial Times, Daily Telegraph, Porsche, Outside Magazine, Rock and Ice, and Red Bull.

He holds two degrees in Exercise and Health Sciences, and a PhD in Public Health.

His areas of expertise are polar expeditions, mountaineering, hiking, and adventure travel. In his spare time Ash enjoys going on small independent sledding expeditions, outdoor photography, and reading adventure literature.

Read more at www.ashrouten.com or follow Ash via @ashrouten on Twitter and Instagram.