Here at ExWeb, when we're not outdoors, we get our adventure fix by exploring social media and the wider interweb. Sometimes we're a little too plugged in, and browsing interesting stories turn from minutes into hours. To nourish your own adventure fix, here are some of the best links we've discovered this week.
The COVID-19 Pandemic May Be the Hardest Mountain Nepal's Sherpas Have Ever Had to Climb: The current mess on Everest has reached the lofty heights of Time. The venerable news magazine analyzes the impact of the coronavirus on the livelihoods of the Sherpa community. It's the usual stuff: Sherpas need the money that mountaineering tourism offers. But Time fails to address the more logical alternatives.  Shouldn't climbers have stayed at home and coordinated an international donation fund instead?
A Hundred Years On: Exactly a century after the first Everest expedition in 1921, travel writer Ash Bhardwaj asks if it's time for mountaineers to look for new challenges. Not surprisingly, he finds that today's climbers (at least the guided ones) are no less fascinated with this great icon of the Himalaya.
The Ghost of Bonatti: Climber and mountain guide Will Sim gives a potted history of the Petit Dru, an impressive tower of rock looming over the Chamonix valley. The Dru is perhaps best known for the famed Bonatti Pillar, which was sadly wiped out by rockfall in the early 2000s.
Mysteries from the deep
What Really Happened to the Berserk? In 2017, Outside published a feature about the Berserk, a ship that went missing in 2011 off the coast of Antarctica with three men aboard. The expedition leader, Jarle Andhoy, disagreed with the story, and the portrayal of the lost men of the Berserk. He also believed that the story left out crucial information about the days before the ship's disappearance. Outside recently interviewed Andhoy and his lawyer, to better understand what happened to the men on board.
The Leg at the Bottom of the Sea: Teenage diver Sebastian Morris and his dad were hunting for treasure in the Gulf of Mexico when they found a below-the-knee prosthetic. How do you lose that in the ocean? Amazingly, they solved the mystery.
Antarctic Explorer and Shackleton Comrade Tom Crean: Adventure Journal continue their excellent Historical Badass series with Irish polar explorer Tom Crean. While Shackleton suffered from various health problems throughout his polar career, his sidekick Tom Crean was by all accounts tougher than a coffin nail.
The Last Great Wilderness: Robert Swan has reached both the North and South Poles on foot, in an era before GPS or satellite phones. He has gone on to dedicate his life to preserving Antarctica as a unique natural reserve for science and peace. In this podcast, Swan shares his experiences of the polar regions, the promise he made to Jacques Cousteau 26 years ago, and how he appears to have a knack for staying alive.
Primal Climbers
Cold Feet: Not the pre-marital jitters, but a film trailer and short interview with 22-year-old climber Peter Naituli, as he climbs with bare feet up Point John, a 4,883m peak on Mount Kenya. Doesn't sound like a particularly sensible thing to do.
How to Forge a Career Climbing Trees: For many of us, life outside is the key to a happier, healthier existence, and so forging a career on those foundations is something many of us aspire to. For those with a penchant for physical work in exotic locations, professional tree climber Waldo Etherington has some words of wisdom.
About the Author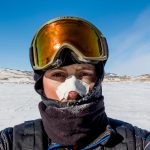 Ash Routen
Ash is an outdoor and adventure writer from the UK. He juggles a day job as a public health scientist with a second career in outdoor writing.

His words have featured in national newspapers, international magazines, and on various websites. Major bylines include Financial Times, Daily Telegraph, Porsche, Outside Magazine, Rock and Ice, and Red Bull.

He holds two degrees in Exercise and Health Sciences, and a PhD in Public Health.

His areas of expertise are polar expeditions, mountaineering, hiking, and adventure travel. In his spare time Ash enjoys going on small independent sledding expeditions, outdoor photography, and reading adventure literature.

Read more at www.ashrouten.com or follow Ash via @ashrouten on Twitter and Instagram.